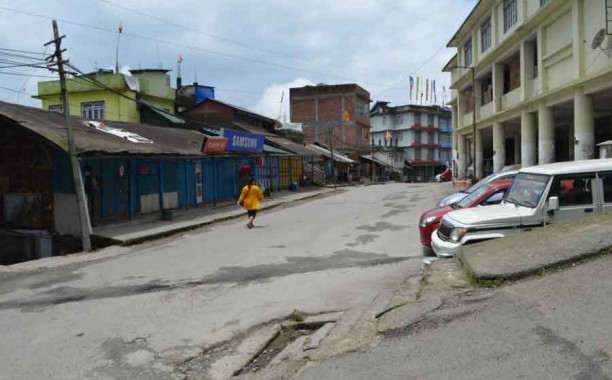 Thursday, Jul 16, 2020 13:30 [IST]
Last Update: Thursday, Jul 16, 2020 07:58 [IST]
Total lockdown begins in Pakyong, Rongli
AJAY THAMI
PAKYONG: Day to day activities came to a halt, business establishments remained mostly closed and vehicular movements restricted as the lockdown imposed in Pakyong and Rongli subdivisions in east district came into effect from Wednesday morning. Vigil has been stepped up in all the entry and exit points in areas falling under the subdivisions and only few notified shops selling essentials were opened.
Police pickets have been set up at entry points to Pakyong subdivision at Rolep, Rorathang, Reshi, and AhoKisan Bridge and Setipoolbridge to stop the unauthorized entry of vehicles.
Similarly, all entry points to Rongli subdivision likeRorathang, Reshi, Rolep, Dzuluk and West Bengal border are sealed with police pickets have been set up to restrict movement of vehicles and people.
Pakyong police station SHO Jigmee Bhutia and his team were seen patrolling at Pakyong bazaarto check whether the lockdown is being followed or not.
Rongli SDM P.R. Dulal informed that presently, the task is more especially to hear public grievances and setting up quarantine centres to isolate suspected cases.
Pakyong SDM HemantRai said though there are no positive cases of Covid-19 reported from Pakyong, all precautions are being taken in all the entry points to Pakyong by checking any unauthorized entry. There is no need to fear about Covid-19 cases here at Pakyong subdivision at present, he added.