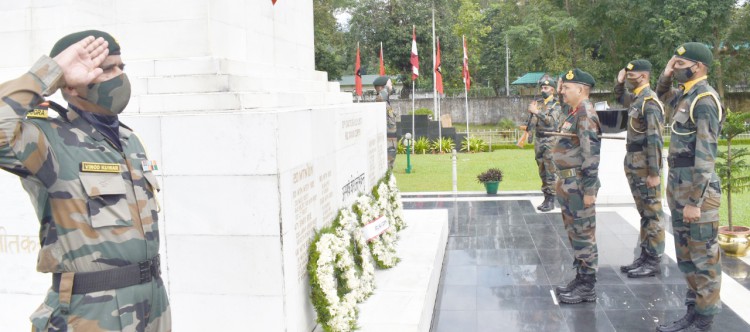 Friday, Oct 01, 2021 22:00 [IST]
Last Update: Friday, Oct 01, 2021 16:26 [IST]
Trishakti Corps celebrates Cho La Day to commemorate 1967 India-China standoff
PRASHANT ACHARYA
SILIGURI,: The Trishakti Corps of the Indian Army celebrated Cho La Day at Sukna Military Station on Friday.
A ceremony was held at Trishakti War Memorial, Sukna where wreaths were laid to pay rich tributes to the brave soldiers of the Indian Army who laid down their lives on the icy heights of Cho La in the Sikkim sector from October 1 to 4 in 1967.
In September 1967, the Indian Army and Chinese People's Liberation Army were at standoff on alignment and construction of fencing at Nathu La in Sikkim. The Cho La skirmish in October 1967 was continuation of Nathu La standoff. At Cho La too, the Indian Army stood their ground. India lost 21 brave hearts, while losses on the other side of the border are estimated to be 44 soldiers.
On this solemn occasion, a wreath was also laid at Cho La War Memorial in Sikkim. Personnel of the Trishakti Corps paid homage to the valiant soldiers and remembered the tales of bravery of the Indian soldiers at Cho La and Nathu La that have become legends and are a source of constant motivation for one and all.