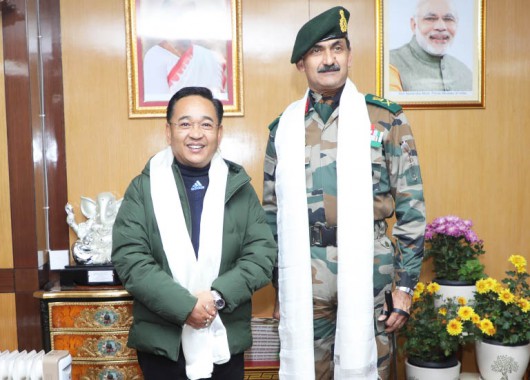 Wednesday, Nov 16, 2022 11:15 [IST]
Last Update: Wednesday, Nov 16, 2022 05:39 [IST]
Trishakti Corps GOC calls on CM
GANGTOK, (IPR): GOC Trishakti Corps, Lt. Gen. VPS Kaushik, called on Chief Minister Prem Singh Tamang at his official residence at Mintokgang, today.
It was a courtesy call by the GOC. During the call on, they discussed various issues related to security, development, cooperation and other relevant matters.
The Chief Minister expressed his gratitude and assured to work effectively with mutual cooperation for the overall benefit of the State.
Also present during the visit were the GOC Black Cat Div, Maj. Gen. Gambhir Singh, Secretary to CM, S.D. Dhakal and Army personnel.