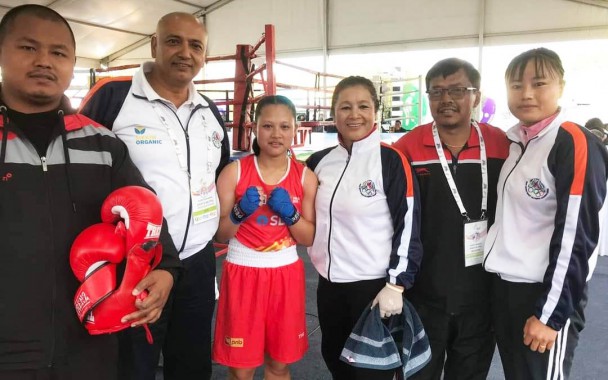 Wednesday, Nov 16, 2022 11:15 [IST]
Last Update: Wednesday, Nov 16, 2022 05:35 [IST]
Two gold medals for Sikkim in 2nd NE Olympics
KUNAL RAI
GANGTOK,: Boxer Yashika Rai from Namchi bagged the first gold for Sikkim in the ongoing 2nd NE Olympics at Shillong. She defeated her opponent from Mizoram in the final (45-48 kg) on Tuesday.
Sikkim has so far bagged around 32 medals in the 2nd NE Olympics.
Speaking with SIKKIM EXPRESS, Sikkim Olympic Association (SOA) president Kuber Bhandari informed that Yashika defeated her opponent from Mizoram to bag the gold medal in the 45-48 kg category. He congratulated the boxer and extended best wishes for success in national and international levels.
Bhandari informed that Sikkim has till now bagged around 32 medals in different sports at the NE Olympics Shillong. The gold medal by Yashika Rai is the first gold medal for Sikkim, he said.
Later in the day, the second gold for Sikkim was won in the women's basketball event.
The Sikkim women's team defeated Meghalaya 86-67 in the final to win the gold medal.