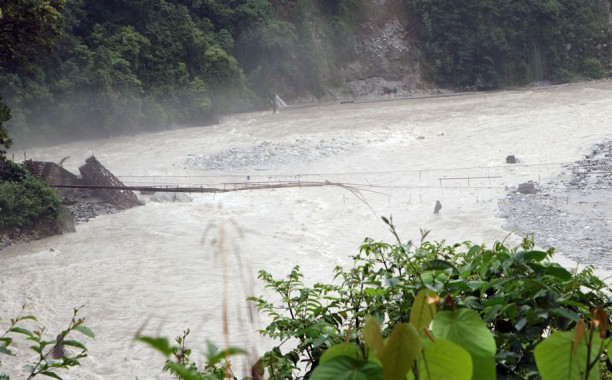 Sunday, Jul 12, 2020 10:45 [IST]
Last Update: Sunday, Jul 12, 2020 04:51 [IST]
Two Upper Dzongu GPUs totally isolated from rest of State
Heavy rains, surging river devour sole lifeline of Upper Dzongu villagers
BIJOY GURUNG
GANGTOK: Tingvong and Sakyong-Pentong GPUs in Upper Dzongu are totally cut-off from rest of State as their sole lifeline – a temporary bamboo cane bridge - was shredded to pieces by an overflowing Mantam lake due to continuous heavy rainfall over past couple of days. By official estimates, it would be at least another three weeks before some form of a temporary bridge could be installed over Mantam lake.
DC (north) Tenzing T. Kaleon along with district officials and SKM area in-charge Chungkipu Lepcha on Saturday reached Mantam lake to take stock of the situation. The troubled spot is about 15 km away from Mangan town.
The administration has told the local villagers to initiate restoration work under the technical supervision of Passingdong block administrative centre with funds to be arranged under DRLC. The restoration work may take around three weeks to be complete, it was informed.
Till the bamboo bridge is restored, the only alternative for the villagers of Tingvong and Sakyong-Pentong GPUs is to walk to Lingzya village and cross the existing suspension bridge to reach Laven village on the other side of Kanaka river where there is a motorable road stretch which connects to Mantam and Passingdong. This alternative is a lengthy route on foot, involving at least two hours of trekking depending on which village is closer to Lingzya.
However, the road stretch just ahead of Mantam lake from Mangan side has also been completely damaged by the heavy rains. Down below Mantam lie Passingdong which had been swamped by a flash flood earlier this month and road connectivity recently restored.
DC Tenzing T. Kaleon informed that the Dzongu subdivision officials has been directed to put a standard operating procedure in place in coordination with the local panchayats. The relief and restoration measures are to give special attention to transhipment of patients, sick persons and expecting mothers from the cut-off villages.
Connectivity between the two GPUs is also fractured as a suspension bridge and log bridges were washed away by the raging streams. Due to this, PDS rice stored at Tingvong cannot be delivered to Sakyong and Pentong villages at the moment.
The administration will try to restore connectivity between the two GPUs and in worst case scenario, try to airdrop food rations and essential commodities if the existing stock in the Sakyong-Pentong GPU runs out, it was informed.
It is not for the first time that these two GPUs beyond Mantam lake have suffered from a total connectivity blackout. Road connectivity to Tingvong and Sakyong-Pentong GPUs were first obliterated in August 2016 when the hill side avalanched which blocked the flow of Kanaka river resulting in formation of Mantam lake.
Since then, there is no permanent road connectivity to Tingvong and Sakyong-Pentong GPUs with local villagers forced to use rafting boats earlier followed by a metal foot bridge and finally, a bamboo cane bridge to cross the lake. The regular change in course and monsoon fury of the lake claimed these alternative measures including the latest bamboo cane bridge.
Works are going on to construct a permanent steel bridge but the project has suffered delays due to recent lockdown and continuous road disruptions.
The 2-lane steel bridge is coming up from near 6th Mile, Tingvong connecting to Kayam side over the river at a cost of Rs. 88.54 crore. It will bypass the Mantam lake and the schedule completion time is January 2021.