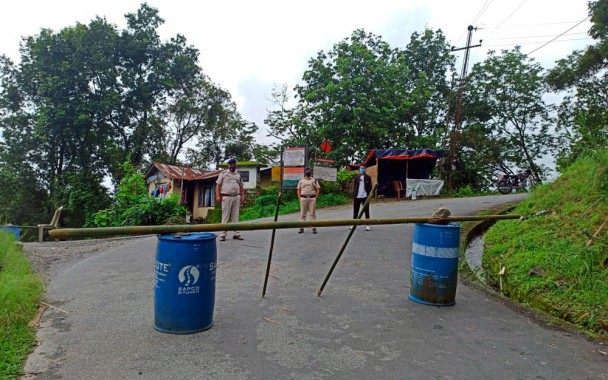 Tuesday, Jul 14, 2020 14:00 [IST]
Last Update: Tuesday, Jul 14, 2020 08:29 [IST]
Under the shadow of Corona fear, Rongli residents welcome strict lockdown
KUNAL RAI
GANGTOK: The entire Rongli subdivision is under lockdown since Sunday following reports of Covid-19 cases from 130 RCC GREF camp near Rongli bazaar. Authorities have also declared Rongli bazaar as a containment zone while starting Covid-19 testing of all primary contacts in the GREF camp.
Both the containment and lockdown period is till July 19. Among other restrictions, people and vehicular movement is banned in entire Rongli subidivsion.
SIKKIM EXPRESS contacted people from various walks of life in Rongli bazaar and other areas that fall under the subdivision.
Pravin Pradhan, a resident of Rongli bazaar, said local residents are concerned over the Covid-19 cases coming from the nearby GREF camp. Some people in Rongli have also been working for the GREF and the rise in Covid-19 cases have alarmed all of us here, he said. We want all the GREF personnel and labourers are tested immediately, he said adding some of local workers engaged by GREF come from different villages of Rongli subdivision. We want strong initiative to trace out all the contacts, bring them under quarantine and test them, he said.
Yadip Chettri, a youth from Chujachen in Rongli subdivision, said though the lockdown was necessary, the normal life in the subdivision has been affected. There are many people who work for the GREF and in this situation, it is difficult to identify people to do needful purchase of our daily requirements, he said. Business activities here had greatly suffered during the previous lockdown and the new lockdown would also add more, he said.
People had adhered to the guidelines and protocols of the State government but we feel sad to see that our efforts have gone in vain, said Chettri. He expressed hopes on the government to prevent further spread of coronavirus. The subdivision authorities have been really active and have taken strict measures, he said informing that sanitisation process has started in the area since Sunday.
Rajeev Pradhan, a youth of Rhenock bazaar, informed that the GPU president had held an emergency meeting on Sunday with local community stakeholders, Health workers, businessmen and police. At the meeting, people decided to strictly follow all the instructions notified by the district administration and since 4 pm of Sunday, the entire Rhenock block has come under voluntary lockdown, he said.
Pradhan said though the government had ordered the lockdown, people are voluntarily following the lockdown so that everyone is safe. The meeting decided all establishments should shut down including ration shops and only medical shops are to remain open, he said.
Pradhan informed that around 60% of people working for GREF are from Rhenock GPU. The meeting decided to keep all those working for GREF under strict home quarantine, he said. The details of these persons have been collected and they have also been given the phone number of authorities so they can immediately contact if they develop any symptoms, he said.
Yes, there is fear among the people but by going for a complete lockdown we feel that fear can be addressed, said Pradhan. The lockdown will affect business activities and livelihood of daily wage earners but it can be restored if we can save lives, he said.
Lalit Sharma, a young entrepreneur from Rhenock, said the lockdown was welcomed by the people as it is for the safety for the entire community.
"Till Sunday, shops were open and people from different walks of life used to come to the town for buying commodities. It was difficult for anyone to know who has come from where. Now there is no such confusion as the lockdown has been imposed but yes, there is fear among the people," he said.
Similarly, Aritar GPU residents are also strictly following the lockdown as notified by the State government. Shops selling essential commodities are open within the permitted time frame but movement of people is limited.
Speaking with SIKKIM EXPRESS, Aritar GPU panchayat president Hemchandra Pradhan informed that there is fear among the Aritar residents as there are people in the GPU who worked in the GREF.
"On Sunday, we held a meeting and identified the persons from Aritar and Kingstone who were working with GREF. We called all those associated with GREF and sensitized on the 'do and don'ts' during home quarantine and have requested them to strictly follow it," said Pradhan.
He informed that those working with GREF are from the lower income group and stay in a cluster of houses in the village. We have planned to place them into facility quarantine as it is not possible from them to maintain social distancing and other SOPs of the Health department since their dwellings are small, he said.
"We request the district administration to help us in providing facility quarantine to keep check on the primary contacts. We have also given them contact number of the authorities whom they can approach if any one develop symptoms. We all are working together to keep the virus at bay," said the panchayat president.