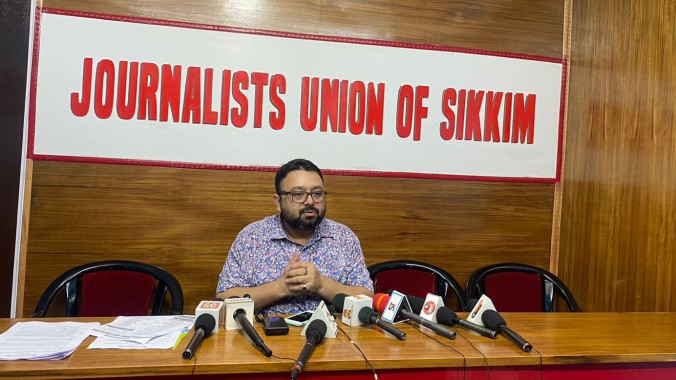 Wednesday, Sep 15, 2021 09:45 [IST]
Last Update: Wednesday, Sep 15, 2021 04:05 [IST]
UNDP-CMS Vatavaran Film Festival starts today at Forest department
ISABELLA GURUNG
GANGTOK,: CMS VATAVARAN in collaboration with United Nations Development Programme is geared up to celebrate UNDP-CMS Vatavaran Film Festival at Forest department secretariat, at Deorali here from September 15 to17.
CMS Vatavaran deputy director Sabyesachi Bharti informed that the idea behind the festival is to support the green movement for conservation through films, festivals and forums, engage with a cross section of stakeholders, including Government of India, media, conservation organizations, experts, academics, corporations, youth and general public and to provide a platform for showcasing the SECURE Himalaya initiatives and programmes.
The inaugural keynote address will be delivered by Forest minister Karma Loday Bhutia at Sidkeong Tulku Conference Hall of Forest department.
The festival will have a two-day Green MOJO Filmmaking Workshop which will be conducted by Ritesh Taksande, faculty member, Film and Television Institute of India, on September 15 and 16.
On September 17, SECURE Himalaya films along with selected awarded/nominated CMS VATAVARAN environmental films on various other relevant environmental issues like water conservation, wildlife conservation, climate change, forest conservation and livelihood and sustainable technologies will be screened, which will be followed by award and closing ceremony, informed Bharti.
CMS VATAVARAN is India's premier and Asia's largest environment and wildlife film festival and forum aimed at enhancing understanding, appreciation and shift in attitudes towards the natural world and to increase space for environmental issues in mass media and evolve a nationwide environment outreach framework.