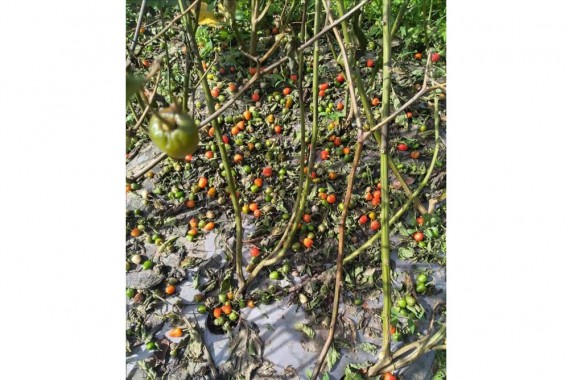 Monday, Sep 28, 2020 10:30 [IST]
Last Update: Monday, Sep 28, 2020 04:49 [IST]
Unknown disease attacks Dalley Khorsani crop in West, South districts
KUSH HANG LEEWANG
GEYZING: The Dalley Khorsani (red cherry pepper chilli) growers in some parts ofwest and south districts are in a fix as the infestation of an unknown disease on the crop has plagued Dalley Khorsani farming in low lying areas of the region. The disease outbreak is being reported from various places of West Sikkim. The disease that is yet to be identified has damaged entire chilli farms of some farmers in South and West Sikkim.
Dalley Khorsani growers said when chilli plants get infected by the disease, the plants start to wane or wither away, leaves, flowers and fruits fall destroying the plants completely. "The disease can be termed as contagious as it can destroy a whole stretch of chilly farm within a week. A scientific research on the disease is required so that the farmers can find effective preventive measures," a farmer from Lower Arithang said.
A progressive farmer, Girman Dahal shared thatDalley Khorsani farm in low lying areas such as Lower Arithang, Ridang and Tinjering have been damaged due to unidentified disease. He said some farmers finding Dalley chilli cultivation more lucrative than other farming practices have been worst affected by the disease. "Giving up cardamom cultivation as chilli cultivation is more rewarding, many farmers are engaged in the cherry pepper farming off late. They are facing the risk of complete loss of money invested in cherry pepper farming if cure for the disease is not found and applied soon," Dahal said.
Deep Raj Rai, a farmer from Sanganath gram panchayat unit of South Sikkim,is also staringat a loss in Dalleychilli farming this year as most of his farm has been infected by the unknown disease.
Rai is practicing Dalley cultivation since several years and the farming was a major source of income for him. He had taken a land on lease this year in order to do the farming in an extensive way but his hope of healthy returns from the farming appears a distant dream.
"I was expecting more than Rs. 2.5 lakh of direct income from Dalley Khorsani cultivation this year but suddenly I am facing a heavy loss in the farming. I am clueless about how to make up for the money invested in farming," Rai said.
However, the disease is still far from the farms located at higher reaches. The outbreak of disease has not been reported from the places such as Nessa of Yuksam-Tashiding constituency and other places from south district but the farmers fear that the disease may get spreadfurther if the treatment of the disease remains unavailable.
"We cannot deny that the infectious disease will not infest our farms lying in higher reaches. We are worried that we will also face similar risk of crop loss," a farmer from Nessa said.
The farmers have urged the concerned department to come out with effective solution in regard to treatment of the disease.