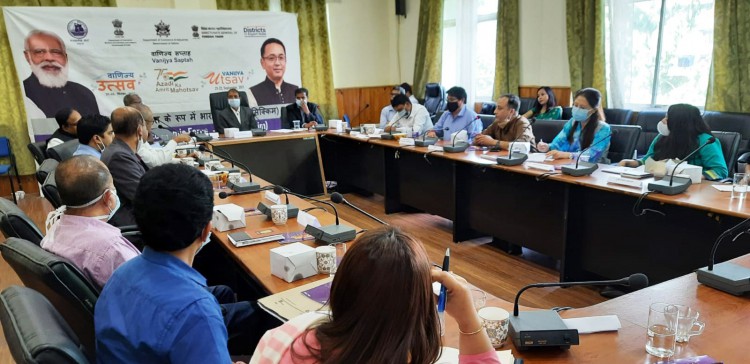 Friday, Sep 24, 2021 06:00 [IST]
Last Update: Friday, Sep 24, 2021 00:19 [IST]
Vanijya Saptah: Panel discussion held on export prospects, challenges of various sectors in Sikkim
GANGTOK,: Department of Commerce under Ministry of Commerce & Industry is organizing Vanijya Saptah from September 20 to 26 across the country to commemorate the 75th anniversary of India's independence by organising various events to showcase the potential of the country's exporters and manufacturers during this week.
As a part of celebrating Vanijya Saptah, a panel discussion was held at the conference hall of Udyog Bhawan, at Upper Tadong here Wednesday on export prospects and challenges of various sectors in Sikkim. State Commerce & Industries secretary H.K. Sharma chaired the meeting, informs a PIB release.
The secretary, in his address, informed that the department has identified tourism, large cardamom, handicrafts, handlooms, dalley chilli, tea, kiwi, trout fish, etc. as the exportable products from the State of Sikkim.
Ravi Kumar, director, MSME, highlighted the various initiatives and schemes of the Commerce & Industries department for training, financial support and handholding of the entrepreneurs of various sectors. He invited the representatives of line departments and entrepreneurs to present the prospects and challenges in export of products belonging to various sectors.
D.R. Sharma, assistant director, MSME- DI, Government of India, mentioned various schemes that are being implemented by Government of India like common facilitation centre, industrial estate development and all the incentive schemes for exporter to promote their product in export market. He suggested to identify a basket of products of Sikkim which are suitable for exports.
Deepak Verma, general manager, Zuventus Healthcare Ltd., East Sikkim, suggested to identify the unique selling proposition of Sikkim products as well as preparation of roadmap on production scaling up and marketing strategies for development of industries in the State. He also suggested to make a list of schemes available under various departments indicating the eligibility, assistance level, etc. and give wide publicity among the budding entrepreneurs. He further requested to develop online portal of the said schemes in single window so that the needy entrepreneurs can choose the schemes based on their eligibility and requirement to reduce the initial hardship.
Priyanka Pradhan from Choten Group, Marchak highlighted their success story on developing of their new product of Yacon syrup and the challenges in marketing of their new product. She suggested extending assistance for budding entrepreneurs particularly for promoting brands through digital marketing.
M.S. Ramalingam, deputy director, Spices Board, highlighted the export opportunities for spices in Sikkim, particularly the value-added products including consumer package of spices. In regard to challenges of market access issues for export of large cardamom to Bangladesh and Pakistan markets, he informed that Spices Board head office had already flagged the issue before the Commerce ministry.
Jiwan Sharma, general manager, SIMFED, highlighted the prospects of export of agri products from Sikkim. He informed that availability of price information in various markets would help the farmers to choose the markets for selling. He suggested to create a market intelligence cell to disseminate the price and other trade related details of the various products at regular intervals.
Kesang Diki Barfungpa, joint GM, Sikkim Milk Union, highlighted the scope for increasing the milk production and suggested that scaling up of production is very much essential for any unit to survive and do better.
Srijana Chettri, undersecretary, Urban Development department, detailed the support extended to the formation of sector base SHGs and sought assistance of line departments in providing training and handholding them in terms of financial support as well as helping them in taking part in exhibition to showcase their products, certification of products and market linkage.
Reena Rai, a budding entrepreneur from Pakyong, elaborated the success story of handmade ceramic products and suggested to provide handholding support as most of the Sikkim entrepreneurs are first generation entrepreneurs. She mentioned that documentation and red-tapism create hurdles among the budding entrepreneurs and thus simplification of process is utmost necessary in the schemes as condition of Sikkim is not similar with States in plains and also the cost of production including raw materials are high.
Dewakar Basnet, representative of CII, Sikkim Chapter, suggested for developing the single window for all the schemes to be implemented in Sikkim and suggested corporate groups operating in Sikkim to support young entrepreneurs to take up various subsidiary product industry required for their units operated in Sikkim. He also suggested to include Sikkim product as gift items of corporate group especially among the pharma companies present in the states. He emphasized handholding by State government in showcasing the Sikkim products by exhibiting in airports, various cities, etc.
Shashikant Gupta, handicraft promotion officer, Handicrafts Service Centre, Ministry of Textiles, presented the various schemes including training for youth and establishment of raw material bank for various handloom and handicraft products.
V.G. Bhat, DGM, NABARD, informed about the credit facilities and assistance available for entrepreneurs under various schemes. He also mentioned that NABARD could help the entrepreneurs and artisans in obtaining registration of Geographical Indication of Sikkim-based unique products.
H.K. Sharma, in his concluding remarks, highlighted the on-going programmes of State government and Central government available for the entrepreneurs. He informed that a district export plan will be prepared by the DICs in consultation with concerned district collector which will be sent to India for approval. Draft MSME policy document has been prepared and sent to government and most of the suggestions made by the members are included in the MSME policy document, he said.
The secretary also suggested to form WhatsApp group of the officials and the entrepreneurs to find out the way to tackle the various obstacles faced by the entrepreneurs, the PIB release mentions.