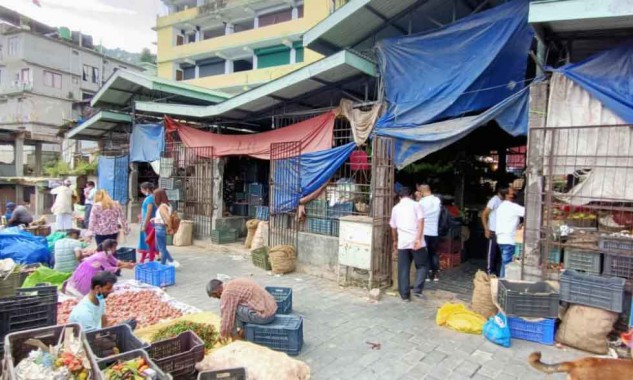 Thursday, Aug 06, 2020 13:45 [IST]
Last Update: Thursday, Aug 06, 2020 08:04 [IST]
Vegetable prices soar in Geyzing
KUSH HANG LEEWANG
GEYZING: The soaring vegetable prices in Geyzingare getting worrisome for people belonging to economically weaker section of the society.
A sudden hike in the prices of vegetables in the town has come as a shocker to the common people. Recently, the district town suffered a crunch in vegetables supply due to lockdown, lack of means of transportation and a weeklong incessant rain that damaged the crops in various parts of West Sikkim. Supply from Siliguri was also disrupted for some days and the town had run out of stock causing panic amongst the consumers. However, vegetable supply from Siliguri resumed a few days ago.
Thehike in vegetable prices in the town by Rs. 20-30 per kilogram has added to consumers' woes, especially the daily wage earners who are workless these days as construction and other menial jobs have been suspended due toCovid-19 reasons.
The prices of vegetables have not been regulated by the concerned department yet and the consumers want theformer to look into the matter so that a balanced 'price system' can be introduced in the town.
"Skyrocketing prices of vegetables adversely affect the family budget of common people who lack permanent source of income. Vegetable prices in the town are becoming unaffordable day by day," a person said.
"Little surge in vegetable prices is understandable considering on-going pandemic situation but arbitrary hike in the vegetable prices is unbecoming. As a daily wage earner we have been worst hit economically due to Covid-19 pandemic and increased prices of vegetables is another problem we are dealing with," another person added.
A kilogram of organic bitter gourd comes at Rs. 120 while a consumer has to pay Rs. 80 for a kilogram of tomato. There is a certain hike in prices of all kinds of vegetables in the town. During the State-wide lockdown, the organic vegetables supply from the vegetables hubs of west district was disrupted due to lack of transport means. As there were no facilities to market their harvest, some farmers from Daramdin were compelled to leave their cabbage field to rot. The Farmers Producers Organization (FPOs) has come forward to farmers' rescue and vegetables supply has been given resumption in west district.
As informed by a vegetable grower from Okhrey, they fetch only Rs. 9-10 per kilogram of organically grown cabbage. However, the cost of cabbage rises by Rs. 20-30 per kilogram when it enters the market.
Vegetable traders say prices may have risen due to crop failure during the rainy season, high transportation cost and difficulties in procurement of vegetables from remote and rural areas.
Some farmers from Sakyong and Kabirthang, near Geyzing shared that incessant rain damaged their crops and they will not be able to supply vegetables in the town. If vegetable supply from Siliguri ceases, local supply will fail to meet the growing demands of vegetables in the town.
People opine that the concerned department should come out with an effective plan for procuring and delivering vegetables in the urban dwellings of west district. FPOs have greater role to play for providing marketing facilities for the farmers, they said.
The prices of meat in the town have also gone up and within five months the rate of meat has been increased by Rs. 40-50.