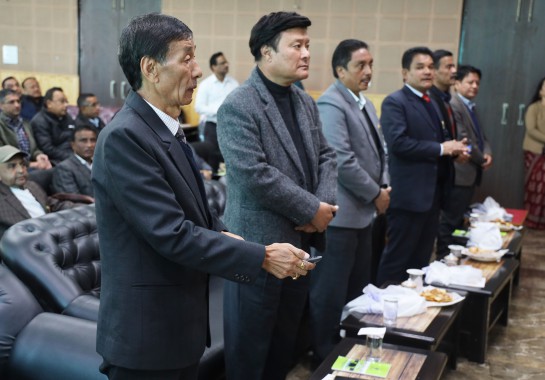 Thursday, Nov 17, 2022 06:15 [IST]
Last Update: Thursday, Nov 17, 2022 00:38 [IST]
Vidya Amrit Mahotsav launched in Sikkim
GANGTOK,: State Council of Educational Research and Training (SCRET) launched Vidya Amrit Mahotsav in the State today.
The launch programme held at SCERT headquarter had the presence of Education advisor Mohan Prasad Subba as the chief guest, SCERT director K.C. Gyatso, SCERT joint director Suraj Bir Singh, joint directors from headquarter, district and sub division office, Block Resource Centre Coordinators (BRCCs), Cluster Resource Centre Coordinators (CRCCs), DIET (Namchi) principal Bandana Chhetri, DIET (Gangtok) faculty Provash Bhowmick and SCERT faculties, informs a press release.
The objective of the programme was the formal launch of Vidya Amrit Mahotsav for the State of Sikkim and to acquaint the system level functionaries about the process for uploading and evaluation of the entries submitted by the teachers and school leaders under the mahotsav.
National Education Policy 2020 (NEP2020) necessitates fostering new behaviour and practice in all stakeholders of school education system. Vidya Amrit Mahotsav under Vidya Amrit Initiative aims to promote and recognize micro improvements for innovative pedagogy implemented by the teachers and school leaders across India. In this line, Vidya Amrit Mahotsav for the State of Sikkim was launched formally by the chief guest today.
The programme began with welcome address and setting of context by the SCERT director. He requested the participating functionaries to get themselves well versed with the technicalities of the process and help and guide school leaders and teachers in performing the task.
Details on the Vidya Mahotsav and the process of evaluation were briefed to the audience by Suraj Kumar Sharma which was followed by a technical session on the modalities of uploading of videos/activities on DIKSHA portal by Rajiv Philip, State Nodal Officer (SNO), DIKSHA Sikkim. This was followed by an interactive session where the participants cleared their doubts and got their queries answered by the SNO.
The programme was also addressed by the chief guest. He stressed upon the need for equipping oneself with the latest technology to meet the present need of the teaching learning process. He also urged the officials and the participants to encourage and motivate the teachers to participate actively in the mahotsav.