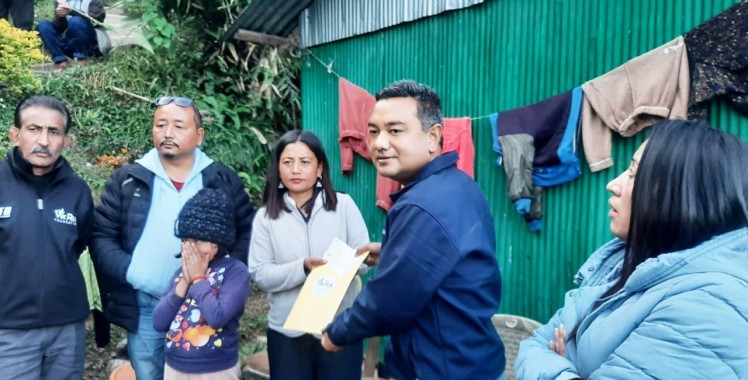 Friday, Dec 03, 2021 08:15 [IST]
Last Update: Friday, Dec 03, 2021 02:32 [IST]
Vikrun Foundation raises 50k for Kalina Rai
GANGTOK,: Vikrun Foundation, a social organisation from Darjeeling, has raised Rs 50,000 as an aid for tea garden worker Kalina Rai to build a new house.
Rai became popular after a video of her being interviewed by a news reporter in Hindi language went viral on social media before the Assembly elections in the State in April, informs a press release.
Kalina Rai hails from the Pulung Dong tea garden, and is seen and heard in the video clip speaking in broken Hindi, while also using Nepali words in between. She had then appealed to the government to build a proper house for her family as presently she is living in small and kuccha house.
"In an interview to a news channel, Kalina had appealed for a house and the video went viral, with the diction she used there mimicked and made Tik Tok videos too. But she did not get help from any quarters, after which we came forward," said Vikrun Foundation member Manoj Gurung.
Vikram Rai said "We've collected some funds to the tune of about Rs. 10,000 through crowd funding by appealing to people through social media, while around Rs. 20,000 was donated locally by well-wishers. The rest was collected from auctioning off a high end running watch I had received recently for attending a programme in Kolkata."
Kalina Rai said, "I never knew that the interview I gave would go viral like this. But even though many people saw it, no one came forward to help me. I am thankful that the VF did provide some help'.