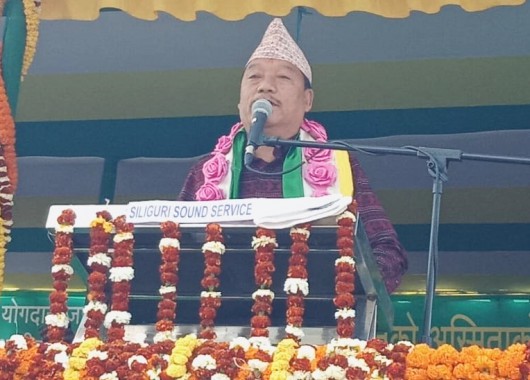 Tuesday, Feb 16, 2021 08:15 [IST]
Last Update: Tuesday, Feb 16, 2021 02:32 [IST]
We will get good results in elections: Bimal
DARJEELING,: GJM leader Bimal Gurung on Monday reiterated his support to Chief Minister Mamata Banerjee and ruling TMC party in the upcoming 2021 Assembly elections.
"We will get a good result in the elections. I am reaching out to people and working to ensure victory for the Bengal Chief Minister," said Gurung. He was addressing a public meeting at Kurseong town.
It was his first public meeting in Kurseong after returning to the hills some months ago.
Gurung maintained that the BJP, an ally of the Morcha for 12 years, betrayed the Gorkha community and should not be trusted again. They only used us for votes and will continue to do so, he said.
The GNLF is now the main ally of BJP in the hills along with four small parties. The GNLF believes that the national party would deliver its promises this time.
Speaking on this, Gurung said: "We broke the alliance because the BJP did nothing for us for over twelve years. What can the GNLF give? I made Niraj Zimba, a GNLF leader as a MLA. It would not have been possible without my support".