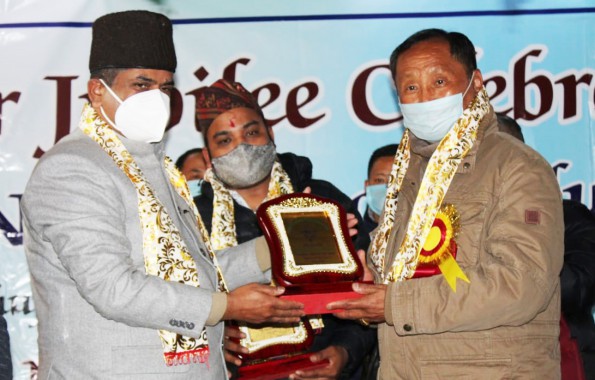 Thursday, Jan 21, 2021 07:00 [IST]
Last Update: Thursday, Jan 21, 2021 01:31 [IST]
Welfare schemes presented to progressive farmers of Chujachen
GANGTOK,(IPR): Agriculture minister Lok Nath Sharma graced the occasion of Silver Jubilee celebration of New Diamond Club, a Chujachen-based NGO as the chief guest at Markang, Rongli today.
The programme was also attended by the area MLA-cum-advisor Buildings and Housing department, Krishna Bahadur Rai, former MLA, Chujachen, Mohan Gurung, Animal Husbandry & Veterinary Services principal director Dr. Sangey D. Kazi, Fisheries director N. Jaswant Singh, joint directors of AH&VS and Horticulture departments, Regu block development officer, panchayats, officials, civil society and public at large.
During the programme, the departments of Agriculture, Horticulture and Animal Husbandry & Veterinary Services distributed token of various welfare schemes to the farmers of Chujachen constituency.
The minister also handed over token of genap tank, five tubular fabricated Green House, three on-farm handling unit (collection centre), two brush cutter under Horticulture department, three power tiller, chaff cutter and polypipe under Agriculture department and chaff cutter and oat seeds under AH&VS to the progressive farmers. He also presented a token of genap tank to the club and encouraged them to adopt farming as a lucrative profession, involving people at community level.
Addressing the gathering, the minister congratulated the New Diamond Club for the noble service extended towards the society in the glorious twenty five years, since its establishment in the year 1996.
Elucidating the importance of rural economy, the minister said that the economy of urban population as well as the State depends on growth of rural sector, hence, every youth from villages, needs to be more dedicated and determined to opt agriculture with new vigour and energy. The State government is also putting all possible efforts for the progress and development of rural areas in all spheres, he added.
He also underlined the initiative made by the State government in agriculture, horticulture, animal husbandry and allied sectors to ensure adequate supply of vegetables and agriculture produce during the crisis of Covid-19. He also stated that the growing demands of agricultural produce can only be meet up with the augmentation in farming activities.
He informed that the State of Sikkim has witnessed additional production of 40000 litres of milk/per day after launching of financial incentives of Rs. 8 per litre of milk.
The minister also highlighted various programmes initiated by the State government including financial incentives to dairy farmers, series of Pasudhan Mela, Development through Credit and implementation of various other welfare schemes. He also informed to include dry area of the locality under Pradhan Mantri Krishi Sinchai Yojana (PMKSY) to extend coverage of irrigation.
The organizing committee also expressed their gratitude to the State government for the presence.
The programme also saw a colourful cultural presentation and also felicitation of various personalities for rendering social services.