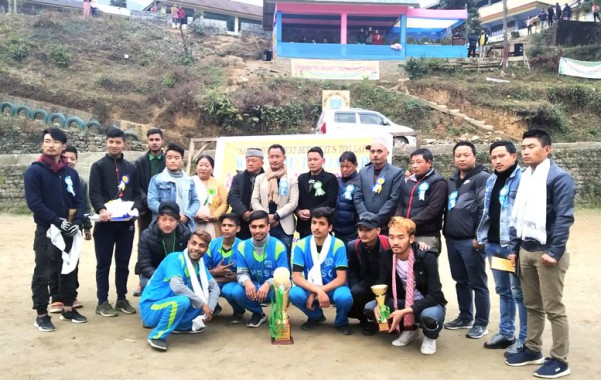 Sunday, Jan 12, 2020 14:00 [IST]
Last Update: Sunday, Jan 12, 2020 08:23 [IST]
West Bermiok Cricket Club wins T20 tournament
KUSH HANG LEEWANG
GEYZING: West Bermiok Cricket Club won the T20 cricket tournament organized by the youth of Darap and the Cricket Association of Darap (CAD) at Darap senior secondary school playground.
In a low-scoring final played yesterday, West Bermiok Cricket Club (WBCC) defeated Himalayan Royal Sporting Club by four wickets.
WBCC produced a disciplined bowling effort to restrict opponents to 93 runs and they went past the target in 18.5 overs losing six wickets.
The winning and runner-up teams were awarded cash prizes and trophies.
Sudesh Gurung of WBCC was adjudged man of the match for his all-round performance.Laden Lepcha from HRSC walked away with man of the tournament award for his 9 wickets and 83 runs.
VivekAttri (13 wickets) and Roshan Gurung (117 runs), both from WBCC,were the highest wicket taker and the highest run getter in the tournament.
Darap Cricket Association was adjudged the most disciplined team of the tournament.
Former chairman of Poultry Development Board K.B Limboo,who was present as the chief guest,appreciated the initiative taken by the youth of Darapfor promotion of sports. "Promotion and involvement of youth in sport is necessary and we must patronize the young generation to take up sport as day-to-day affairs," he said.
The chief patron of the organizing committee, ultra-marathoner Amar Subba thanked all who supported and sponsored the cricket tournament initiated by the youth of Darap.