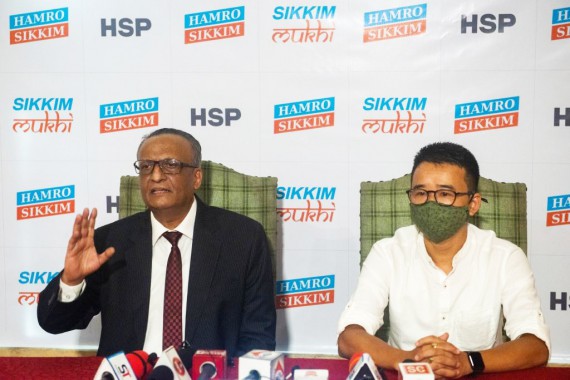 Monday, Sep 20, 2021 08:00 [IST]
Last Update: Monday, Sep 20, 2021 02:20 [IST]
What happened to your CBI promise?: HSP asks SKM
BIJOY GURUNG
GANGTOK,: Hamro Sikkim Party (HSP) on Sunday demanded the SKM government to start working on its electoral promises, specifically on curbing corruption, before its term ends in next two and half years.
"Tacking corruption with CBI was one of major electoral promises made by the SKM. It has been two and half years now and there is not even a word of CBI coming from the SKM government. They should issue a white paper on CBI and give to the public. The government has already completed its half-time," said HSP chief spokesperson Biraj Adhikari in a press conference here.
Adhikari pointed that though the SKM had made several '100 days' promises, the HSP believed that the new government should be given some time to deliver on its election manifesto promises. We are ready to give one more year but the indications we are seeing today raise ample doubts on the SKM government's competence to work and fulfil its election manifesto promises, he said.
"The SKM had promised regularisation for adhoc teachers and it was a major agenda that boosted the party to form the government. However, the recent episode was disappointing wherein the party managed to create division among the adhoc teachers," said the HSP chief spokesperson.
Adhikari was also critical of the ongoing meeting series of Chief Minister P.S. Golay with party workers at Mintokgang. "We have only one question. Are only the SKM members poor people in Sikkim?," he said.
He also termed the SKM government as a 'U-Turn Government'. SKM is a 'U-Turn Government' because they are doing opposite of what they had promised as seen in the recent issue of adhoc teachers, he said.
Adhikari mentioned that as per a past Supreme Court judgement, an election manifesto of a political party is a legal document as votes are sought from the people based on the promises written in the manifesto. If the SKM government does not start working on its election manifesto promises, we will not hesitate to file a case against it, he said.
"The votes of the people must be respected. Hamro Sikkim Party is working to restore this respect for the votes of the people. We are talking with other groups on this and soon more details would be shared. A party must not forget its promises after reaching the government. Things have come to such an extent that there is doubt on who runs the government in Sikkim," said the HSP chief spokesperson.