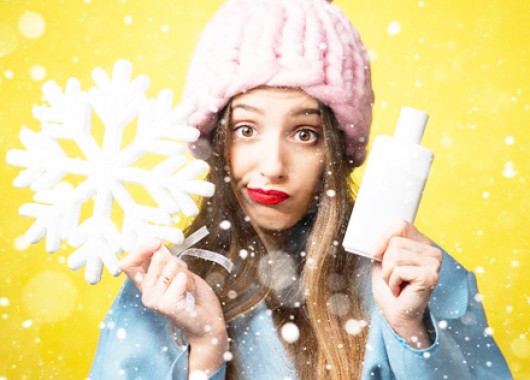 Sunday, Dec 06, 2020 12:00 [IST]
Last Update: Sunday, Dec 06, 2020 06:22 [IST]
Why some people get more acne in the winter
Shahnaz Husain
Nothing much blooms in winter, but pimples may be an exception. Wintertime can be hard on the skin. When cold air hits our face, it rips away natural surface lipids which act as a layer of protection. Winter tends to be the driest time of the year. Cold air holds less moisture and your skin becomes dry, itching, flaking, and peeling due to the chill outside. Cold weather, wind, and dry indoor air can suck moisture from your skin. When moisture leaks out of the skin, the oil glands will overproduce sebum to lubricate/hydrate the skin.
While a little keeps your skin soft and moist, too much can result in clogged pores and more acne.
Your face's "T-zone"—basically, your forehead, nose and chin— produces the most sebum than almost any other part of your body, which is why this area is prone to pimples when the temperature dips.
Cold exposure is a form of physical stress and if you suffer from things like acne or rosacea, that stress might increase inflammation. Making time for activities that mellow you out—stuff like exercise, yoga and meditation—may ease your anxiety and help you avoid stress pimples.
Daily cleansing and skincare, with appropriate products, is the only way of protecting the skin from pimples and acne. Keep the pores free of hardened oil and reduce oiliness of the skin. Use an astringent-toner after cleansing. Wipe the face with it, using cotton wool. Astringents help to reduce oiliness of the skin and tighten the pores.
Cucumber has an astringent effect. Apply cucumber juice by itself on the face and wash it off with plain water after 15 minutes. It helps to reduce oiliness and close the pores.
Green tea also works well as an astringent toner. Soak green tea leaves or a teabag in hot water for half an hour. Cool and strain and use the liquid on the skin.
If the skin feels dry in winter or after washing, avoid creams and moisturizers. Mix one teaspoon pure glycerin with 100 ml rose water. Keep in an air-tight bottle in the fridge. Apply a little of this lotion to relieve dryness.
Sandalwood paste can be applied on the pimples, acne and boils.
Twice a week, mix Multani mitti, rose water and sandalwood paste together into a paste. Apply on the face, avoiding the lips and area around eyes. Wash it off when it dries.
Mix together one teaspoon cinnamon (dalchini) powder, half teaspoon methi seed powder, lemon juice and a few drops of honey. It should be a sticky paste. Apply it ONLY on pimples or acne and leave on for a couple of hours, or even overnight.
Simmer a handful of neem leaves on a very low fire in 4 cups of water for one hour. Leave it overnight. Next morning, strain the water and make a paste of the leaves. Apply it on areas with pimples and rash.
Add 2 drops of Tea Tree Oil to two tablespoons of water or rose water. Apply this on rash and pimples.
Add a little turmeric paste to milk and apply on rashy areas. Remember that Blackheads can lead to pimples and acne.
Mix oats with egg white and apply on the areas with scars and blackheads. Wash off after 15 minutes or when it dries.
Make a paste with bicarbonate of soda (baking soda) and a little water and apply daily on the areas with scars and blackheads. Leave on for 5 minutes and wash off with water.
If there is redness on the skin due to pimples, or the eruptions are reddish, apply aloe vera gel daily on the face, washing off with plain water after 20 minutes. It also soothes irritation.
It is also important to make sure that the hair and scalp are kept scrupulously clean. If the scalp is oily, or if there is dandruff, it can lead to pimples and acne. Keep the hair away from the face while you sleep. Wash pillow covers and towels in warm soapy water, after adding one teaspoon antiseptic lotion.
Include fresh fruits, raw salads, sprouts, curd, in your daily diet and drink 6 to 8 glasses of water daily. Add the juice of a lemon to a glass of water and have it first thing in the morning.