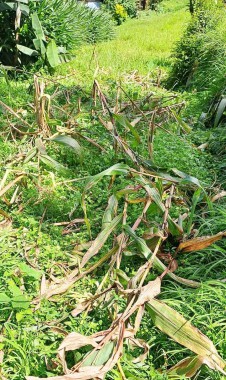 Thursday, Aug 11, 2022 09:00 [IST]
Last Update: Thursday, Aug 11, 2022 03:19 [IST]
Wild boars trouble famers near Geyzing
KUSH HANG LEEWANG
GEYZING,: Foraging of maize field and damage to other standing crops by wild boars has been reported from Byadung ward under Geyzing Nagar Panchayat.
Many farmers from Byadung have lost their crops to wild boars which remains active especially during wee hours of night in search of food. Byadung and other nearby areas are already gripped by monkey menace since several years and now the presence of wild boars around the vicinity has further escalated the woes of the people involved in farming.
The urban Byadung ward located nearby the densely forested areas remains a suitable habitat for wild animals as an easy access to food from nearby agricultural fields meet their needs. However, the locals informed that apart from crops lost to monkey, the presence of wild boars were not heard of in the past.
Some farmers informed that many farmers from the ward have suffered major losses in maize farming this year and the wild boars menace has come as a discouragement for the farmers. They claimed that their maize crops were ready for harvest and were left in the field for drying.
Sandu Sundas, an affected farmer, shared that he incurred a huge loss after losing a major portion of his maize field to wild boars. "Almost half of my maize field has been overrun by the wild boars. It is every night the wild boars frequent the unguarded maize field and devour the standing crops and we are unable to protect our fields throughout the night," Sundas said.
Another farmer Meena Tamang informed that the wild boars, in huge numbers, have been sighted at various places of Byadung by the farmers. She added that her maize field and other standing crops have been destroyed by the wild boars.
When enquired about already lapsed maize harvest period, Meena Tamang shared that maize harvest period gets delayed in upper reaches as cold weather condition elongates the time required for proper drying of maize in the field. "Many farmers have been affected in the wild boars menace. With the help of local youth, we remain on guard to protect our crops throughout the night. In the day time it is the monkey and the wild boars in the night, how long we have to be on guard to protect our farm?," Meena Tamang said.
Some farmers lamented that they have been dealing with the monkey menace without any necessary support from the concerned department and now the wild boars frequenting their cultivated fields would adversely affect their agricultural returns.
It was informed that the affected farmers have intimated the Wildlife and Forest department about their grievances with a hope that the concerned department would come to their rescue in regard to the wild animals menace that they have been victim of since several years.
The concerned department officials could not be reached for their comments on the grievances made by the affected farmers.