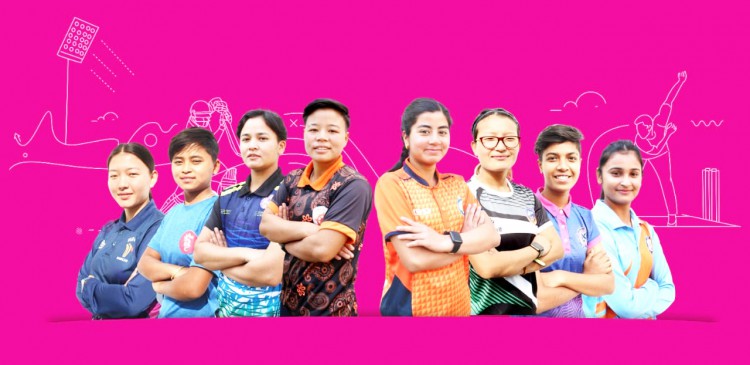 Tuesday, Jan 04, 2022 08:45 [IST]
Last Update: Tuesday, Jan 04, 2022 03:07 [IST]
Women cricketers' time to shine
SAMIR NUGO
GANGTOK,: There is no dearth of sporting talent in Sikkim — all it needs is the right training and platform. And a testimony to this is the Khangchendzonga Shield women's T20 competition, which will allow female cricketers from Sikkim to showcase their potential and prowess.
The tournament starts on January 6 and concludes with the final on January 16.
Eight teams have been divided into two groups of four teams with each team playing the other once in the group. The top two sides from each group will proceed to the semi-final.
The tournament will have participation of as many as 120 registered players including around 40 cricketers who have already represented State in the nationals.
A total of 15 games will be played over 11 days including 12 league matches.
The eight participating teams are Alpine Sporting Club, Yuksam Capitals, Aakraman Sporting Club, Denzong Cricket Club, Cricket Association of Tathangchen, Irises Cricket Club, HRCC Namchi and Pakyong DWC.
The tournament will start with Aakraman SC taking on Alpine SC at 7 am on January 6. The matches have been kept at 7 am and 11 am to ensure that matches are finished within daylight hours.
SICA general secretary Tshewang Lama highlighted SICA's commitment to the development of women's cricket in Sikkim.
"We are delighted to announce the first edition of the Khangchendzonga Shield women's club tournament from January 6. The tournament is the perfect platform for all players to make an impact and earn themselves a berth in the State team or even national team," he stated.
The general secretary expressed confidence that the women's tournament will be a witness to the birth of many talents.
"I am sure the upcoming campaign will have a lot of surprises in store for us. We spotted a lot of talented young players in a four-team tournament organised by SICA last year, some of whom went on to make it to the State team. It is always encouraging when local tournaments act as a launchpad for players to get to national cricket," Lama maintained.
Dikcha Gurung, who had never played competitive cricket before she featured in the women's T20 challenge organised by SICA last year, had a spectacular national campaign with Sikkim under-19 women's team this season. The Sikkim team topped the Plate Group and qualified for the knockouts for the first time.
The 15-year-old from Chuba played all of Sikkim's six games and grabbed 11 wickets. She was also selected for BCCI U-19 Women's One Day Challenger Trophy. Dikcha will be captaining Denzong Cricket Club in the tournament.
Lama said, "Dikcha was identified from Chuba by one of the scouts. But the credit goes to the last year's tournament which actually refined her skills as a cricketer. Before last year, she was nowhere. Now, she is one of the brightest talents in India."
"SICA has always focused on women empowerment. The tournament is our effort to promote women's cricket and provide exposure to women cricketers of the State. Women cricket is easy to penetrate and we are hopeful of seeing NE cricketers representing India very soon."
Lama mentioned that all the eight teams in the upcoming tournament are well-balanced. "They all are equally good teams and evenly matched. All the team has at least one or two national players who have represented Sikkim. It should be a good contest."
Next year, SICA is planning to hold players' auction to ensure that every club gets a chance to build a good team.
The tournament is the first ever women's club competition in the State and the players said they are looking forward to the event with vigour.