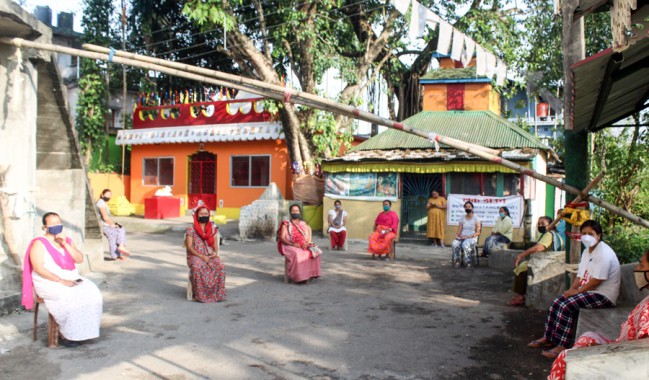 Tuesday, Jun 02, 2020 14:30 [IST]
Last Update: Tuesday, Jun 02, 2020 08:46 [IST]
Women guard Upper Bagdogra village as Covid warriors
PRASHANT ACHARYA
SILIGURI: During the coronavirus-induced lockdown where most stay indoors across the nation, more than 15 women of a village in Bagdogra come out of their houses everyday to fight the Covid-19 pandemic.
Thewomen from DanraGaon under Upper Bagdogra Gram Panchayat are guarding their village at the entry points like corona warriors to save their community. With increased reports of coronavirus cases reported in the region, the women have now decided to guard the village in shifts from morning 9 am to noon and 2 pm to 6 pm.
To ensure that the lockdown rules are strictly followed, the women first held a meeting and aware all to maintain social distancing, wear masks and sanitize before and after the duty.
Sweta Pradhan, a housewife who has a small daughter, is doing the duty in the frontline just to save her family, society and nation from the invisible enemy which has almost gripped the world.
"We were bound to come out of our houses leaving our kids at home after seeing that people are careless about the dangerous virus, roaming unnecessarily without masks and also the entry of unknown visitors in our village."
Binuka Tamang (Singh) is a committed social worker who is guarding the village in both the shifts leaving her husband at home to do household activities.
"We sensitize people to wear masks and sanitize vehicles entering our area. We have barred unknown vendors, other people and doubtful visitors from entering the area without proper verification. We have also instructed our people here not to allow any relatives to enter the village coming from other stations without the permission of the local authority and check-up at government hospital," she said.
The village have been barricaded to prevent people from entering without permission.A register is also being maintained to mark present for the women doing their duties.
RakshaRai, another volunteer, added that they are contributing Rs. 50from every family for the sanitization of the village and all the entry points.