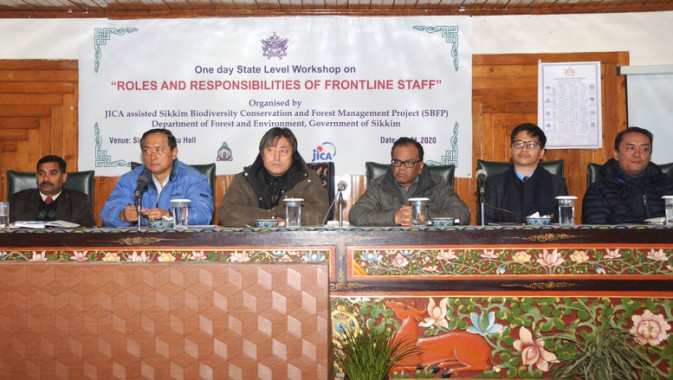 Saturday, Jan 25, 2020 13:30 [IST]
Last Update: Saturday, Jan 25, 2020 07:57 [IST]
Workshop held for Forest frontline staff
GANGTOK (IPR): A State-level workshop on 'roles and responsibilities of frontline staff' of Forest department was held at the conference hall of Forest secretariat today. The workshop was organised by JICA-assisted Sikkim Biodiversity Conservation and Forest Management Project (SBFB).
The workshop was attended by Forest minister Karma Loday Bhutia as the chief guest, Forest principal secretary M.L. Shrivastava, SBFP project director N.W. Tamang, dignitaries, officials and staff of Forest department, members from NGOs and SHGs, and front line guards.
The minister, in his address, lauded the SBFP for organizing the vital training workshop for the front line workers. He announced incentives for all the front line staff for their contribution to the department.
Bhutia delved on various administrative issues mentioning the cadre review system and the proposal for creation of foresters' welfare fund and urged all the staff to contribute to this initiative.
Citing the example of the guest house at Jorethang which has been maintained carefully, he requested all the concerned officers to look after the department guest houses.
He further requested the concerned officials to give NOC to the schools that have crossed 110 years and to set up a check post at the entrance of West Sikkim along with a fire brigade system as it is the low belt area.
Principal secretary Shrivastava, in his key note address, stressed that frontline staff should be equipped and trained for programme implementation and for forest protection as it is the most important sector in the department. They are the ones who are responsible for execution, and function as the interface between the department and the public, he said.
Shrivastava said that JICA has been supporting the department since long and the priority areas such as human wildlife conflict and state technology system has been defined. He stated that the department is focusing on technology sector quoting the example of Madhya Pradesh which is very advanced in forest fire, plantation module and wildlife module.
He further added that the department is strengthening the policy of people's participation to make the management more inclusive and urged all the front line staff to take full leverage of today's training programme.
Project director N.W. Tamang said that the front line staff should be responsible for safeguarding forest areas, restoring environment and creating sustainable future. He informed that today's programme focussed on developing technological skills among the front line staff.
The programme also saw the felicitation to three front line staffs for their contribution and bringing laurels to the department. They are Reshmi Chettri, Kalpana Chettri and Prem Kumar Chettri.