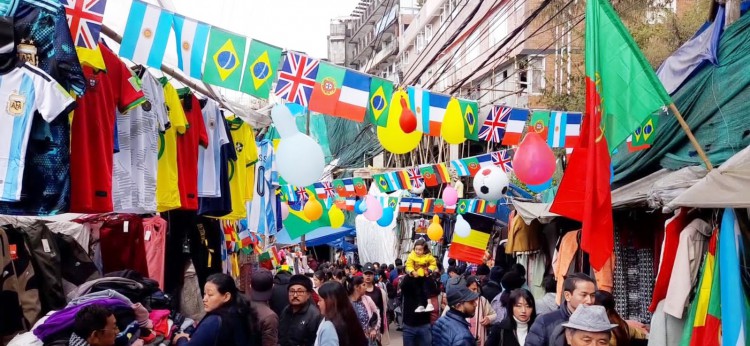 Sunday, Nov 20, 2022 08:00 [IST]
Last Update: Sunday, Nov 20, 2022 02:25 [IST]
World Cup josh runs high in Darjeeling
DARJEELING,: The tradition of festivities during the World Cup may have started in the early eighties but it seems to be going strong even now in the Queen of the Hills. With just a day left for the kick-off for FIFA World Cup in Qatar, soccer fever has come alive in Darjeeling with flags of favourite nations raised in many places in the town.
"I started sewing and selling flags in 1982. During that time, only flags that were made by us were found in the market with Brazil and Argentina being the favourites. However, now ready-made flags have also come up in the market and people choose them as they have logos too which we could not make by hand," said Suren Trikhatri, a tailor who has also started selling ready-made flags along with the ones that he makes.
Trikhatri maintained that the World Cup frenzy seen among the people here every four years was from the eighties when television made an entry in Darjeeling.
"Earlier it was only through the radio that we got to hear about it but after television came to some houses here, we used to gather there and watch the World Cup. The craze to the whole thing was added by the way Diego Maradona played. His posters were found in every household along with the team of Brazil," he said.
According to him. 15 to 20 handmade flags are getting sold every day as compared to 40-50 units in the past World Cups.
"Earlier we could not even meet the demand but due to ready-made printed flags coming up, the flags we make are not sold as much," he said.
Trikhatri maintained that each flag cost differently according to the material and the craftsmanship. An Argentina flag would cost less as compared to Brazil's which has blue disc depicting a starry sky spanned by a curved band inscribed with the national motto.
Apart from Brazil and Argentina, among the top sellers is Portugal flag, said Trikhatri, an ardent Argentina fan.
"In a day, about 30 to 40 flags are being sold and about 10 large flags. Jerseys are however not being sold as much with only five a day which could be due to the winter season," said Papu Ansari, a local street vendor.
Ready-made World Cup related items are also being sold in the town.
If sales of football-related items are soaring, decorations are coming up in different parts of the town like Kak Johra where walls are painted with flags of different countries at every World Cup.
"We started painting flags every World Cup along with putting up flags since 1994. The expense for all this is borne by us and our friends. Apart from being an interest for us to do this the other reason we started this was make youths interested in activities like sports and make them stay away from social evils like drugs and other such things," said Sajesh Moktan, member of Bara Kak Johra United Club (BKJUC).
Explaining why the World Cup is like a festival in Darjeeling he said, "In Darjeeling football has always been close to our hearts with many tournaments held here like Hurley Cup and Gold Cup. As a child we did not miss these tournaments and there were also famous local players who got to play in the big leagues who we are proud of," said Moktan, an England fan.
Similarly, Pachpan Hatta has been all decked up with overhead flags of Argentina, Brazil, England, Spain and Germany.
"These all started from the 90s when television started to come in all houses. Our Samaj does this every World Cup in support of their teams so if a team has no supporter here the country's flag will not be seen here. Though we have our own favourites we all come together and enjoy this as a festival," said Darjeeling Mitra Milan Sangh general secretary Ravi Mangar said.
Both BKJUC and DMMS plan to put up a projector in their respective areas and watch the latter half of the tournament along with the final together.