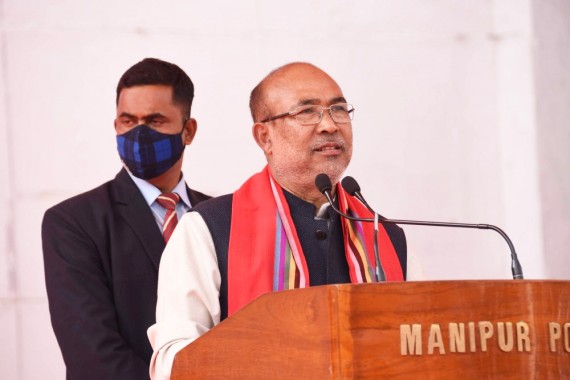 Saturday, May 27, 2023 08:15 [IST]
Last Update: Saturday, May 27, 2023 02:41 [IST]
Amid fresh incidents of violence, Manipur CM again appeals for peace
IMPHAL, (IANS): Amid fresh incidents of violence in at least three districts, Manipur Chief Minister N. Biren Singh on Friday again appealed to the people to maintain peace and harmony and announced holding of peace talks with all communities and stakeholders to normalise the situation.
Union Minister of State for Home Nityanand Rai, who is now on a visit to the strife torn state, said that Home Minister Amit Shah is scheduled to visit Manipur on May 29 and stay for three days to resolve the ongoing ethnic crisis.
Police said that incidents of violence including arson were reported from three districts -- Imphal East, Churachandpur, and Bishnupur.
Army and various other central forces immediately rushed to the violence hit areas and brought the situation under control.
Singh, while talking to the media in the Secretariat, said that the Army, Central Armed Police Force, Manipur Rifles, police, and Village Defence Force had been adequately deployed at 38 most volatile and mixed populated areas of different districts.
The Chief Minister said that a team of MLAs from Manipur on Thursday met the Union Home Minister in Guwahati and apprised him of the prevailing situation.
"Our government's priority is making peace feel safe and secure. People must have faith in the government to restore peace and normalcy."
Rai, who visited some districts, told the media that the recent unrest would affect the development and welfare activities.
He said all grievances, demands, problems and issues would be resolved through talks and peaceful process and people of different communities must have faith in the government and shun all forms of violence.
Meanwhile, some women organisations on Friday burned the effigies of Prime Minister Narendra Modi, the Union Home Minister, the Chief Minister, newly appointed Security Advisor to Manipur Government Kuldiep Singh and overall operational commander Ashutosh Sinha.
One of the protesters Sandhyarani said following the May 3 incident, people across the state are living in panic and uncertain situations.
Meanwhile, Minister of State for External Affairs and Education Rajkumar Ranjan Singh and Naga People's Front (NPF) Lok Sabha member Lorho S. Pfoze jointly urged the people to maintain peace and ethnic harmony and keep their faith and trust in the government to control the situation.
Academician turned BJP politician Singh, elected to the Lok Sabha from Inner Manipur parliamentary seat, while Pfoze, a physician turned politician, was elected from Outer Manipur seat.
Singh, who earlier in a letter to Prime Minister Modi had said that Kuki leaders, including their 10 MLAs, have demanded a separate political administration (equivalent to separate state) for the tribals under tremendous pressure from various quarters including the militants -- on Friday left Imphal for New Delhi.