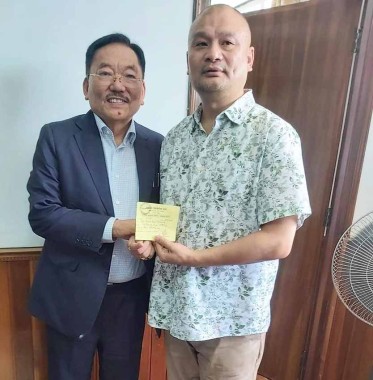 Tuesday, Sep 12, 2023 06:00 [IST]
Last Update: Tuesday, Sep 12, 2023 00:30 [IST]
Ashis Rai returns to active politics with SDF 2.0
GANGTOK,: Politician Ashis Rai from Arithang, Gangtok has made a 'ghar wapsi' to his former SDF party by renewing his SDF membership in presence of party president and former Chief Minister Pawan Chamling.
His return to the SDF and active politics has been keenly followed by political observers with the 2024 Assembly election fast approaching.
"I have extended my support to the SDF president and former Chief Minister Pawan Chamling. I am formally returning to the SDF during a programme on September 19," said Rai when contacted by SIKKIM EXPRESS on Monday.
Asked why he is returning to SDF, Rai said: "I am returning to SDF to join its 'save Sikkim' campaign. The SDF has also evolved to a more youth-oriented party as SDF 2.0 and is starting on a new note. I am also making my second political innings with SDF 2.0".
Rai was a prominent SDF youth leader but was not fielded as the party candidate from Arithang constituency in the 2019 Assembly election. He resigned from the SDF and contested as an independent candidate and collected the second-highest votes (2676) from Arithang constituency after the winning candidate Arun Upreti from SKM (3150 votes).