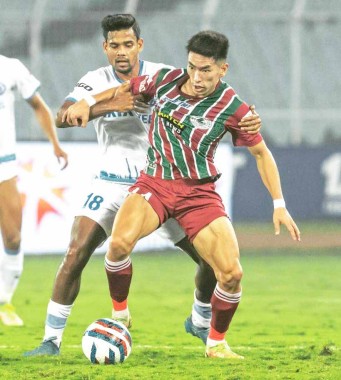 Wednesday, Aug 30, 2023 07:15 [IST]
Last Update: Wednesday, Aug 30, 2023 01:31 [IST]
Ashish Rai in Team India for King's Cup
BIJOY GURUNG
GANGTOK,: Sikkimese footballer Ashish Rai has been named in the 23-member Indian national team squad for the upcoming 49th King's Cup to be held from September 7 to 10 in Chiang Mai, Thailand.
Indian senior national men's team head coach Igor Stimac announced the 23-member national squad on Tuesday.
As per the AIFF, India (ranked 99th) will face Iraq (ranked 70th) in the semi-final on September 7 at the 700th Anniversary Stadium. Hosts Thailand (ranked 113th) takes on Lebanon (ranked 100th) in the other semi-final on the same day.
The semi-final winners will contest the final on September 10, while the losers will play the third-place play-off.
Ashish Rai plays as a regular right back for ATK Mohun Bagan since 2022. He is among the eight defenders in the Indian national team for the King's Cup. He has also been named in the Indian football team for the upcoming Asian Games 2023 hosted by China from September 23 to October 8.
Ashish, 24 years old, hails from Pachey in Pakyong, East Sikkim. He has been included in the Indian national team for five times but has not made a match appearance so far.
"I am hopeful that this time I will get to play for the national team and make my international debut. There is a good chance this time," said Ashish Rai when contacted by SIKKIM EXPRESS.
He is presently at Kolkata with his club Mohun Bagan which has entered the semi-final of the Durand Cup.
The King's Cup is being taken as a preparatory tournament for the upcoming Asian Games.
Ashish started his professional football career in I-League for the AIFF-owned team Indian Arrows. He rose to national limelight with Hyderabad FC which went on to win the Indian Super League 2021-22. He also won the Indian Super League 2022-23 championship with ATK Mohun Bagan.