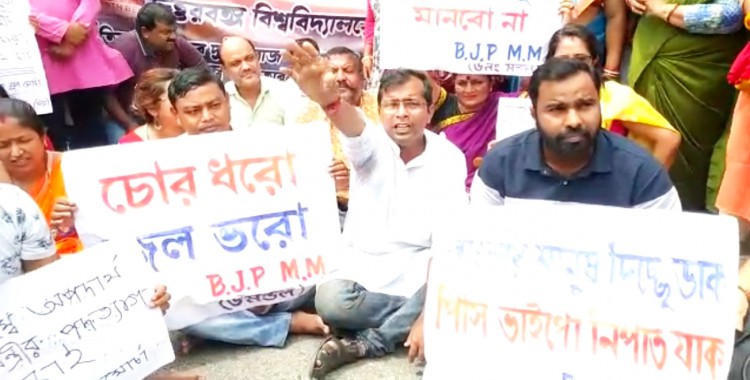 Wednesday, Aug 03, 2022 08:00 [IST]
Last Update: Wednesday, Aug 03, 2022 02:30 [IST]
BJP protest at NBU against VC's alleged involvement in WBSSC scam
SILIGURI,: BJP staged a demonstration in front of North Bengal University (NBU) gate today, demanding the arrest of vice chancellor Subiresh Bhattacharya for his alleged involvement in West Bengal School Service Commission (SSC) recruitment scam.
Hundreds of BJP workers led by Matigara-Naxalbari MLA Anandmoy Barman gathered in front of the university gate and clashed with police. The gate of the university was broken in the clash which led to the arrest of two BJP workers.
The BJP claims that the vice-chancellor fled abroad to escape from investigation. "The vice-chancellor went on leave after getting involved in the corruption. Though he was supposed to join work on July 19, he has not joined yet," they said.
Bhattacharya was holding the post of WBSSC chairman for a few months when initial allegations of corruption were made against former Education minister Partho Chatterjee.
MLA Barman said, "Subiresh Babu fled away in fear of arrest and now he is hiding overseas. We want ED to start a probe in North Bengal and question the VC on the scam."