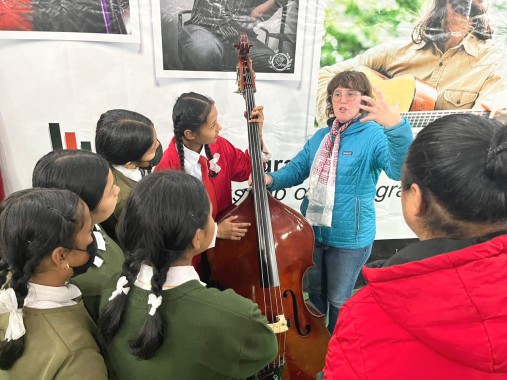 Tuesday, Mar 21, 2023 05:30 [IST]
Last Update: Tuesday, Mar 21, 2023 00:01 [IST]
Bluegrasslessons from the Journeymen
GANGTOK, : Sikkim got a rare taste of American bluegrass music last Friday when 'Bluegrass Journeymen', a travelling American band, performed at an event at Manan Kendra here.
Three days later, the school students at Pakyong are taking Bluegrass lessons from the visiting band.
Pakyong Music Institute,in association with State Culture department, has organised a four-day workshop on Bluegrass musicstarting today at Pakyong'scommunity hall.
Bluegrass music is a genre of American roots music that developed in the 1940s in the Appalachian region of the United States. It is a subset of American country music, traditionally played on acoustic string instruments like guitar, banjo, mandolin, violin, and upright bass (string bass).
The Bluegrass Journeymen is a collective of ace musicians with an aim to present the traditional American Bluegrass music to the world. The band travels across the globe to perform, plans musical outreach and organises cross-cultural musical collaborations with local folk musicians.
The Bluegrass Journeymen make regular trips to India,collaborating with Indian musicians. Each member performs in a variety of bands back home, bringing original tunes and a deep knowledge of the bluegrass traditional songs and history to the table. They have been playing gigs and giving lessons to the local folk musicians.
District collector TashiChophel congratulated Pakyong Music Institute for organising the workshop in the district.
A musical cultural exchange programme and an art competition and exhibition have also been planned.Global artists, performers, educators, and musicians from all around the world will be present at the event.The aim is to promote fresh art and music enthusiasts, to create a bonding among young sections of society and also to understand their views of present day society, informs an IPR release.