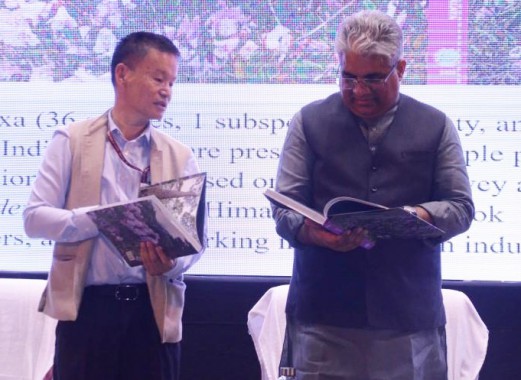 Monday, Feb 20, 2023 08:45 [IST]
Last Update: Monday, Feb 20, 2023 03:11 [IST]
Book on Sikkim and Darjeeling rhododendrons
GANGTOK,: A book on Sikkim and Darjeeling rhododendrons published by Botanical Survey of India and Directorate of Cinchona and Other Medicinal Plants, Mungpoo was recently released by Union Forest & Environment minister Bhupender Yadav at Kolkata.
The book, titled 'Rhododendron of Sikkim and Darjeeling Himalaya: An Illustrated Account', documents the entire range of rhododendron species found in Sikkim and Darjeeling, informs a press release.
Rhododendron is a genus in the Ericaceae family of flowering plants with a worldwide distribution of more than a thousand species. In India, it is found in the Himalayas with high concentration in Sikkim and Darjeeling, and other high-altitude regions of North-eastern States accounting a total of 132 taxa (80 species, 25 subspecies, and 27 varieties). In Sikkim and Darjeeling Himalaya, it is deeply rooted in cultures across different communities and also provides various ecosystem, socio-economic and eco-tourism services. Due to their colourful flowers and foliage, rhododendrons are extremely valuable in the horticulture world.
The book authored by Rajib Gogoi, Norbu Sherpa, A. A. Mao, Samuel Rai and Subrata Gupta covers an account of 45 taxa (36 species, 1 subspecies, 1 variety, and 7 natural hybrids) of rhododendrons that are found in Sikkim and the Darjeeling Himalaya, which is accompanied by photographs. The book also discusses few notable rhododendron trekking routes in Sikkim and Darjeeling.
The authors have described a new natural hybrid from Yumthang Valley in North Sikkim in the name of Sundar Kumar Rai, retired technical personnel of the department who enriched the BSI-Sikkim herbarium by collecting approximately 15,000 specimens from all over Sikkim and Darjeeling Himalaya for better understanding the flora of the region.
While Sikkim and Darjeeling Himalaya account for about 0.3% of India's geography, the region is home to 34% of India's rhododendron species, the book says. The rhododendrons in the Himalaya are discussed historically in the book to ignite interest in young botanists and nature lovers.
The book also depicts the crucial role played by the Indian and foreign botanists, enthusiasts and native researchers – U.C. Pradhan, an eminent orchidologist, S.T. Lachungpa, ex-principal conservator of Sikkim Forest department; David G. Long of RBG, Edinburgh and K.C. Pradhan, a renowned plants man and ex-chief secretary of Sikkim – in discovery, identification, popularisation and conservation of rhododendrons in Sikkim and Darjeeling Himalaya. This book commemorates Sir J. D. Hooker's visit to Sikkim and Darjeeling which marks 175 years and is also dedicated to the two legendary native plant collectors of the 20th century, Rhomoo Lepcha and Ribu Lepcha.
The book is targeted towards a wide range of audience which includes students, foresters, academicians, horticulturists, policymakers, and most importantly the tourism sector which will harvest good benefit. Most significantly, this book fulfils the twin functions of being a scientific treatise for young generation to view and enjoy these amazing species as well as a tool for professional to exploit with accuracy, the release adds.