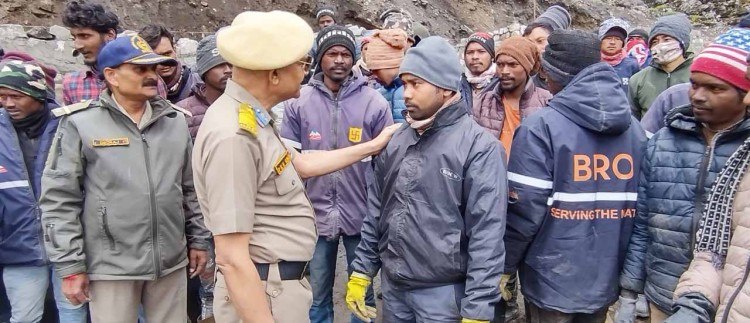 Tuesday, Sep 12, 2023 06:00 [IST]
Last Update: Tuesday, Sep 12, 2023 00:28 [IST]
BRO additional director general inspects road infra works in Sikkim
GANGTOK,: BRO additional director general PKH Singh visited Sikkim from September 7 to 11 to inspect and review the ongoing infrastructure works being undertaken by Project Swastik in Sikkim and North Bengal.
A Project Swastik press release informs that Singh along with Project Swastik chief engineer Brig Manoj Gupta interacted with chief secretary VB Pathak, senior government functionaries and Army officials at Tashiling Secretariat here on September 8.
The agenda of the meeting was to discuss the road development plan and iron out the bottlenecks to speed up land acquisition, forest and wildlife clearances.
During the meeting, the Project Swastik chief engineer gave a detailed presentation to all the secretaries and additional secretaries of the State who attended the meeting. The issues highlighted by the BRO were discussed threadbare with active participation and contribution by all concerned.
The chief secretary exhorted all officials to expedite office processes to ensure speedy clearances, thereby paving the way for early construction of roads in the State. He assured that all clearances will be expedited in a time-bound manner and directed that the next review meeting will be held in the last week of November, the release mentions.
On September 9, the BRO additional director general along with the Project Swastik head interacted with Governor Lakshman Prasad Acharya where they apprised the Governor about the ongoing and future infrastructure works being undertaken in Sikkim by the BRO.
During his visit, Singh inspected various projects of strategic importance, including National Highways, under construction in North Sikkim, East Sikkim and North Bengal. He also reviewed the works on upgradation of Jawaharlal Nehru Marg (NH 310), running from Gangtok to Nathu La, to a 'Zero Fatality Corridor', the first in Sikkim.
While visiting the road construction sites, Singh also interacted with the local labourers working on these roads. He complimented them for the hard work being done by them in difficult terrain and weather, and thanked them for their contribution to State and nation building.
On September 11, the BRO additional director general along with the Project Swastik chief interacted with the Corps commander, Trishakti Corps and briefed him on the present and futuristic road infrastructure plan of North Bengal and Sikkim.
The contribution of Border Roads Organisation in the overall development of Sikkim and strengthening the locals can be easily seen in the works being done across the State, the release mentions.