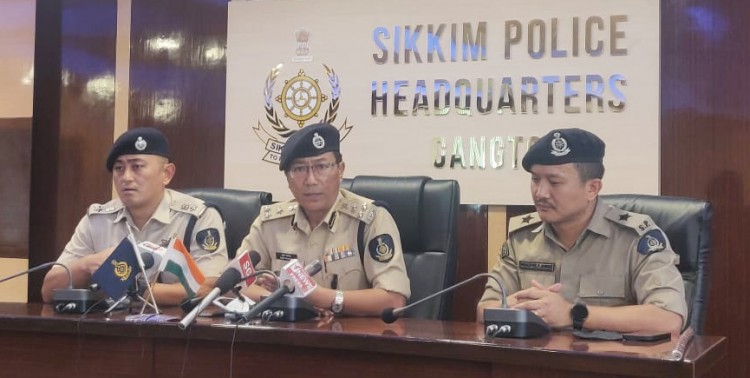 Monday, Jul 18, 2022 08:30 [IST]
Last Update: Monday, Jul 18, 2022 02:53 [IST]
Cheating attempts via Whatsapp impersonation on rise, people appealed to be cautious
BIJOY GURUNG
GANGTOK,: Many citizens here are being targeted with Whatsapp messages from frauds impersonating as VIPs or senior bureaucrats to swindle money. Such phishing attempts are on a considerable rise here prompting the Sikkim Police to appeal the people not to entertain such dubious Whatsapp messages.
Addressing the media here on Sunday, Sikkim Police DIG (Gangtok Range) Tashi Wangyal said cheating attempts through impersonation on Whatsapp platform is happening on a concerning level in Sikkim.
"The modus operandi is that the fraudsters create their digital profile (DP) with the image of a VIP or a senior bureaucrat and then Whatsapp messages to their targets impersonating as that particular VIP or bureaucrat. Once the person responds believing to be actually in conservation with the important person, the message sender claim some urgency and ask the victim to send Amazon gift cards. It is a big scam. We appeal people not to entertain such messages as you may end up losing your hard earned money. We must understand that people do not ask for money in form of gift cards," said the DIG (Gangtok Range).
The Amazon gift cards range from Rs. 500 to Rs. 10,000 but as the police shares, the frauds impersonating as important political or government figures con the victim to send several Amazon gift cards till a substantial amount is cheated or the victim belatedly realizes the scam.
Though there have been such multiple attempts in Sikkim that is the knowledge of Sikkim Police, only one case has been registered after the victim lost around Rs. 1.5 lakh through the Whatsapp impersonation scam.
Gangtok SP Tenzing Loden Lepcha informed that this new form of cheating is happening in other States also and based on investigations here, Sikkim Police believes that the scam is operated by a gang based in Bihar. We are in touch with Whatsapp and Amazon officials and taking action, he said.
The scammers are said to be an organized gang operating in a structured manner backed with strong technology.
"Investigations are going on but at the moment, our main appeal to the people is to remain cautious on the Whatsapp messages they may be receiving. Do not trust such messages if the contact is not saved in your phone," said Lepcha.