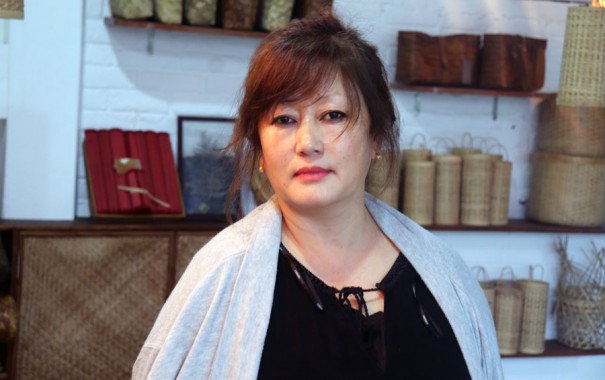 Friday, Jun 26, 2020 14:00 [IST]
Last Update: Friday, Jun 26, 2020 08:19 [IST]
Chimi Ongmu's start-up Lagstal promoting sustainability solution
ISABELLA GURUNG
GANGTOK: Lagstal, a design studio by Sikkimese entrepreneur Chimi Ongmu Bhutia is promoting sustainability solution in handicrafts products by using locally available raw materials and local work force.
The start-up venture by Chimi is among the six start-ups from Sikkim selected to receive a seed grant of Rs. 5 lakh each (with no EMI, no equity or share dilution) at NERES 1.0, an entrepreneurship summit aimed at offering a platform to promising start-ups and aspiring entrepreneurs across NER.
Based in Upper Sichey here, 'Lagstal design studio by Chimi Bhutia', runs the e-commerce portal www.lagstal.com/lagstal_designstudio, as an effort to take the traditional handicrafts to the national and international level.
Born and brought up in Gangtok, Chimi is a social and naturenomics-inclined entrepreneur who believes in entrepreneurship that is pro-nature and environment friendly. She has pursued a course in fashion designing from National Institute of Fashion Technology (NIFT), Kolkata.
Hailing the idea of the summit aimed at promoting the best business ideas, Chimi said NERES was the first huge platform for entrepreneurs of Northeast India and expressed happiness on having been selected to receive the seed grant.
"Before NERES 1.0, I have never been associated with any organisation and was focused in my start-up. AIC-SMUTBI CEO Dr. Tej Chingtham and IT department director and former MSME director N. Jaswant, who are my mentors, motivated me to participate in the summit. They were really helpful and I loved the idea of the summit, aim at promoting the best business ideas. NERES is the first huge platform for entrepreneurs of Northeast India and I am happy to be receiving the seed grant," expressed Chimi.
The entrepreneur shared that the grant will be used in replacement of plastic in everyday use, as she is more into social and naturenomics-inclined entrepreneurship. We have some prototypes that we will be developing for mass production, she added.
She explained that 'Lagstal' is a more Sikkimese word as she didn't want any fancy English name for her start-up. Chimi spent almost six months in a library to find the correct word. 'Lag' means hand and 'stal' means craft/skill.
Through her start-up, Chimi is looking to contribute to a more sustainable future where being environmentally and socially responsible goes hand with running a profitable business.
"We want to contribute to a society that provides a viable future with enhanced quality of life for everyone. Sustainability is at the core of what we do. The main aspect of going eco-friendly is about sustainability. Since the world is corrupted with pollution and toxic amount of materials, making it sustainable can be a good call. In our plastic-filled world, avoiding plastic can be pretty challenging. We need to find alternatives to replace plastic by recycled papers and bamboo products for our daily use, thereby creating a positive impact in the environment and in our daily life. Thus, the innovation of bamboo and recycled paper is to find alternative for plastic, which hoped to be mass produced and commercialized. This innovation is expected to support the sustainability of the environment as well as economy because the product is eco-friendly and it can generate new source of income to farmers, weavers and craft products producers. Indirectly, it supports the government economic transformation program as well as preserves our planet," informed Chimi.
'Lagstal' is working with almost 70 rural artisans around Sikkim and other parts of NE region. It has been recognised in many national and international platforms.