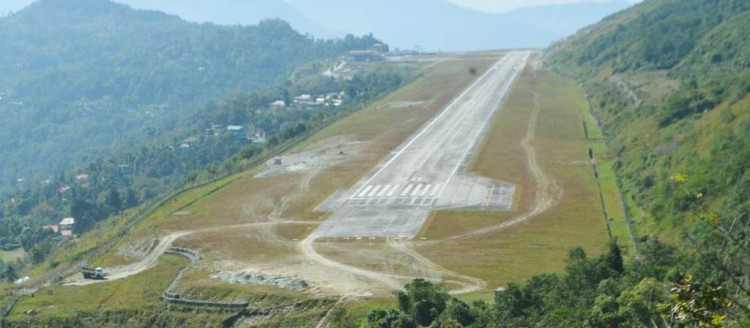 Wednesday, Nov 16, 2022 11:15 [IST]
Last Update: Wednesday, Nov 16, 2022 05:40 [IST]
Civil Aviation ministry responds to HSP's demands on Sikkim air connectivity issues
GANGTOK, : The Union Civil Aviation ministry has advised Spicejet to restore flight connectivity to Sikkim at the "earliest" besides requesting the scheduled domestic airlines for favourable consideration.
SpiceJet had suspended its flight operations at Pakyong airport in Sikkim since October third week. At present, there are no flight operations from the lone airport of Sikkim and this matter was raised by Hamro Sikkim Party (HSP) president Bhaichung Bhutia on November 1 with Union Civil Aviation minister Jyotiraditya Scindia.
The HSP president had sought flight operations of at least two domestic airlines from Pakyong airport and at least one international flight from Sikkim under the international UDAN scheme.
On November 7, the Union Civil Aviation wrote to Bhaichung regarding the demands made.
In his reply, Scindia shared that Spicejet was awarded as the Selected Airline Operator (SAO) with the operational rights for routes from Pakyong airport to Kolkata, Guwahati and Delhi under UDAN scheme.
The SAO gets Viability Gap Funding (VGF) for UDAN flights for a period of three years.
Scindia informed that SpiceJet, the SAO, has been advised to restore the flight connectivity at the earliest. He added that the request for Sikkim's flight connectivity has been shared with all scheduled domestic airlines for favourable consideration.
On the demand for international flights from Pakyong, Scindia has added that the State government is responsible for providing monetary assistance under the Viability Gap Funding (VGF) for airline operators.
"Accordingly, the Govt. of Sikkim may use that template for international air connectivity or make a request to the MoCA for biding. On the request of Govt. of Sikkim, RCS Cell/AAI may invite e-proposals for international air connectivity for the proposed routes," said the Union minister.
"It is surprising to learn that the Sikkim government has not even once made a request for international air connectivity for Sikkim to the MoCA for bidding. Scindia has said that if they receive a request for a bid from Govt. of Sikkim then it can be considered as per International Air Connectivity Scheme. The State government must act now as half the work has already been done by the HSP," said HSP spokesperson Tara Bhattarai in a press statement.
Bhattarai said the HSP thanks the Union minister for his timely response on the demands made by the party. "We would also implore the State government to take cognizance of Scindia's replies. We hope the State government will act on its part to ensure domestic and international air connectivity in Sikkim," he said.