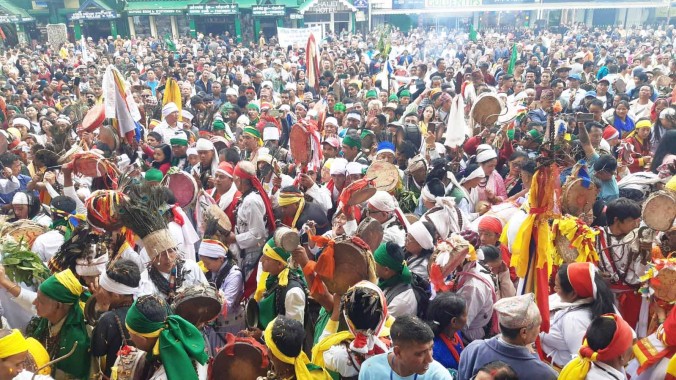 Friday, Sep 01, 2023 06:45 [IST]
Last Update: Friday, Sep 01, 2023 01:12 [IST]
Darjeeling celebrates Bonbo festival with traditional healers
DARJEELING,: The GNLF celebrated the Bonbo festival – a festival of the hill shamans (jakris) – at Chowrasta here on the occasion of Guru Purnima.
It was the late GNLF leader Subash Ghisingh who started observing the Bonbo festival in 1993 to show that people in the hills were Bonbo worshippers (people who consider stones, rivers and trees as their deities). He wanted to show the government that people in the hills were tribal communities and the hills be declared as Sixth Schedule, as the special provision is granted to people living in predominantly tribal areas.
"This tradition was started by my father Subash Ghisingh and since then we have been observing it. This year we wanted to organize it in a grand way," said GNLF president Mann Ghisingh.
Compared to previous years, there was a larger crowd of people this time participating in rallies which came out from different parts of Darjeeling.
The jhakris are said to pray in caves at the outset of monsoon and come out on the occasion of Guru Purnima. They observe the occasion by performing rituals of dancing and performing pujas at temples.
On this day, 'pitri puja' is also performed in memory of the departed souls.
Shamans and their followers had come from various parts of Darjeeling for the rally in Chowrasta where they also visited the Mahakal Mandir.
Darjeeling MLA Neeraj Zimba offered shawls to the shamans as a mark of respect at the programme organised by the GNLF under the banner of Rashtriya Gorkha Bonbo Mahotsav Samity.
"This ritual is being followed when our ancestors were there. Bonbo religion is older than many religions and before Subash Ghisingh. It was however due to him that the festival was started to be held officially," said Zimba.
When asked about this festival's connection with the 6th Schedule, Zimba said, "The issue of 6th Schedule and this festival is different. However, we have no objection if it is implemented."