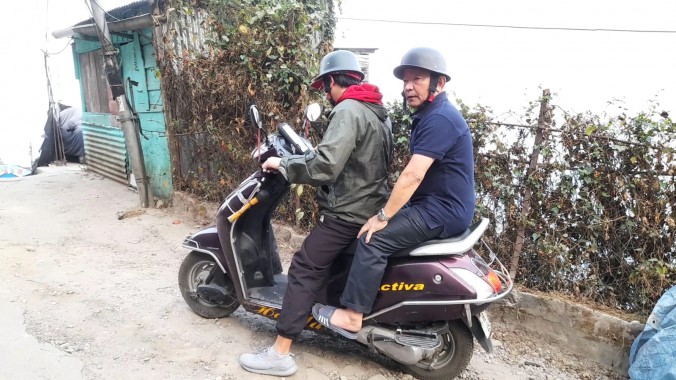 Monday, Mar 20, 2023 07:15 [IST]
Last Update: Monday, Mar 20, 2023 01:34 [IST]
Enterprising youths start Scooty services in Darjeeling locality
DARJEELING,: Scooty services are now available at Bhutia Basti for the local residents who had to walk all the way up to the main Darjeeling town along the narrow and steep road.
Bhutia Basti is about 1.5 km away from the main town and the uphill walk was difficult for the local residents, especially the ill and elderly.
Two-wheeler services are already operational in different parts of the country and in Darjeeling, the first of its kind started last year by an enterprising youth Satyadeep Rai (35) from Bhutia Basti. Many youths followed suit from the area this year.
"I started the scooter service last year. The main reason I started itwas looking at the problems being faced by my mother along with otherelders in the village who must walk the steep route upwards toChowrasta to reach town. The road to town is not only verysteep but also narrow with difficult corners for vehicles to come toour village," said Rai.
There are several elderly citizens in our locality and among them, a 90-year-old is my regular passenger, he added.
There is a route for a vehicle downhill till onereaches the main road at Lebong. However, the distance to town is more than 8 km and an expensive trip if a person books a vehicle. The other option is to walk about 20 minutes downhill and then wait for a shared taxi, a time consuming process especially during emergencies.
"It is during medical emergencies that people face most problems or when they have to carry something heavy. Anambulance does come here but what about those who are not seriously sick? They too have to go to the doctor. This is when the scooterservice helps the people," said Rai.
Students also take his services available daily from 6 am to about 7 pm.
Rai drops the students at Chowrasta where they can catch the school bus. He charges Rs. 30 till Chowrasta, Rs. 90 till town and Rs. 150 both ways.
The fares are not much and I am doing this to mainly help the people, he adds.
"Earlier I had about 30 to 35 passengers daily but now I have only 10to 15 passengers a day with more scooter services starting in the areasince this year," Rai said.
Local resident Madan Subba (62) said: "Thescooter service has provided a lot of help to us, mainly the old andsick people. This was started by Satyadeep first but now manyunemployed youths have also started this. Earlier it was tough for us to walk all the way up to Chowrasta and now it is much easier for us."