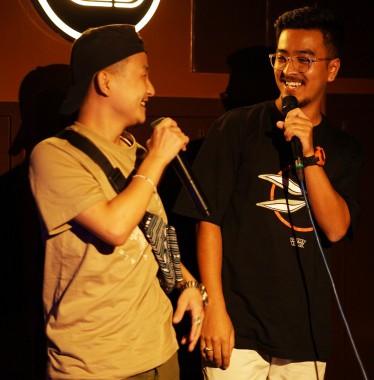 Saturday, Nov 19, 2022 08:30 [IST]
Last Update: Saturday, Nov 19, 2022 03:04 [IST]
GAON KO DAJU
ISABELLA GURUNG
Nitesh Gurung and Milan Subba, popularly known as @instaman_gtk and @west_lapun are creating a social media buzz with their overly hilarious reels and YouTube content; and viewers are absolutely loving their content and asking for more. "We want kids to have a glimpse of our childhood, and how life was back in our days. The 90s kids have grown and all of us are busy with our family, work and life," the creators of 'Gaon Ko Daju' shares…
GAON KO BHAI
NITESH & MILAN
Over the years, social media has become a part of us, and we are definitely spending a generous amount of time in our lifetime scrolling our mobile phones engaged with social media. A scroll through Instagram, YouTube, Facebook etc. offers engrossing contents ranging from dance to adorable pets, pranks, beauty, food, travel destinations and of course comedy, that is perfectly suited to our tastes.
Sharing Instagram reels with your loved ones is definitely the new way of sharing memes! Isn't it? So, many of us have certainly watched duo @instaman_gtk and @west_lapun getting bullied by the mysterious 'Gaon Ko Daju' and two girls (portrayed by the duo) gossiping and stalking boys on social media in 'Those Girls Getting Ready' series on Instagram and YouTube.
Nitesh Gurung and Milan Subba, popularly known as @instaman_gtk and @west_lapun (on Instagram) are creating a buzz on social media with their overly hilarious reels and YouTube content; and viewers are absolutely loving their content and asking for more. Nitesh has a YouTube channel titled 'Nitesh Gurung Vines', where the duo shares comedy contents that are mostly skits.
Let TGIF! introduce the duo first…
Twenty-seven-year-old Nitesh Gurung was born in Kalimpong. He is the son of the famous 'Sikkimey Humjayega', who has his own fanbase. Having done his schooling from Gangtok, he has spent most of his life in Sikkim. He completed his BSc in Botany from NB Bhandari Government College, Tadong and is now a full-time Tourism teacher by profession. He based in Pakyong. He previously worked as a graphic designer for TourGenie, a travel company for three years, before he turned to teaching.
Nitesh currently resides in Deorali with his father, mother and sister. Her sister, Neelam Gurung is a part-time stand-up comedian and poet and a full-time teacher at Tashi Namgyal Academy, Gangtok.
Nitesh loves drawing, sketching, graphic designing, art, digital illustrations and photography. Highly influenced by cinema, Nitesh has worked in various short-films, and has been featured in 'Babari', a Nepali feature film. The film was released in Nepal and is scheduled to be released in India soon.
Milan Subba was born in Martam, West Sikkim, but grew up in Gangtok. The 28-year-old did his schooling from Gangtok and completed his BSc in Botany from NB Bhandari Government College, Tadong. He is currently working as a private teacher in coaching institutes.
A shy and introverted kid, Milan is an avid reader and a die-hard Harry Potter fan. His interests include writing, art and digital illustration.
Nitesh and Milan are opposite characters. One is an extrovert and the other, an introvert. Nitesh was an average student, while Milan was a nerd, always surrounded by books, and he always got good grades in school. While pursuing BSc in college, both boys got back-paper. Although it was shocking for Nitesh to see a brilliant student (Milan) fail in class, the duo bonded and became best of friends… Today, they are @instaman_gtk and @west_lapun, the duo that brightens up our day with their hilarious content on social media.
Here is an exclusive interview of Nitesh and Milan with TGIF!
From Botany to Comedy
Nitesh: I was under no pressure from home to take up science as a major subject in college, but I was confident I could do it. I got admission in Botany, but soon I was struggling to cope-up with the syllabus. And I got back-paper. That's how I transitioned from Botany to Comedy. (laughs!)
I had always known Milan as the bright student in class, but when I heard he too had a back-paper, I was literally shocked!
Soon Milan and I bonded and became best of friends. We used to attend group study together, and that was how comedy happened. We used to chit-chat a lot in class, making fun of teachers, ourselves and making joke of almost everything. We used to communicate with each other via expressions and Milan had amazing expressions. He used to lift my jokes and make it even funnier. That was when I realized that Milan is a funny guy. Milan was an introvert, always surrounded by books. He is a Potterhead and an anime freak. He is a good writer. We are different characters, yet have the same taste in comedy.
Soon, in 2016, we started making videos together.
Prior to that, I used to sometimes make videos on my own, because I was passionate about video editing, graphic designing, photoshop etc. Those days, Vines, a short-form video sharing app was the 'in-thing'. That is also the reason why my YouTube channel is titled 'Nitesh Gurung Vines'. I was fascinated by the content on Vines, and I used to wonder how the same person could portray different characters in one short video. Instagram in those days allowed only 60-second videos.
Milan: When Nitesh started in 2016, I was always there behind the scene, helping him out with content and ideas. I joined him on screen, later in 2018, when we started posting videos on YouTube.
I have always been an introvert, but I genuinely wanted to express myself in some way or the other, and comedy was my savior. Nitesh is an extrovert, and is naturally funny. He was always the loud kid that made everyone laugh. Growing up, I had a small circle of people I was comfortable with, with whom I could be myself, and those people were my family. I had never made a larger audience be part of my jokes.
Nitesh's extrovert side and my introvert side combined, gives a unique taste to our comedy. That was maybe the reason we came together, in the first place.
Early days
Nitesh: Initially, when I started, I was highly inspired by YouTuber BB Ki Vines. My interest in creating comedy content grew and I used to try and create content like his. I would play different characters like mother-son-father, student-teacher etc. I planned the script and directed the videos myself.
Growing up, I have always been a cinema freak. I was a die-hard Salman Khan fan, and I used to imitate him a lot. I sometimes used to imagine and act like the camera is shooting me. (chuckles!).
Soon, I became highly interested in cinematography. Often, I used to wonder how special effects like slow-motion (which was new then) were used. I used to research and the interest grew even more. I learnt video editing and worked as a graphic designer for 'TourGenie; for three years. I was enjoying my work at 'TourGenie', but the long shifts made it difficult to focus on content-creation. Those were the days, when our followers and audience were growing rapidly, so I decided to quit my job. I chose teaching instead. That way, I could give time to my profession and passion, equally.
I also got a chance to play a comedy character in 'Babari', a Nepali feature film. The film has already premiered in Nepal and is scheduled to release in India soon. The film has been co-produced by Sushma Productions (Gangtok). I have also worked in short films.
Going forward, I want to make short films, which will strictly be comedy-based. We want to come up with a short film, but we are still in a planning phase.
Inspiration
Milan: I am a Bollywood freak, and I have always found films like Golmaal and Dhamaal fascinating, when it comes to comedy. I used to watch a lot of Bollywood films, and was highly inspired by Govinda. I used to picture Nitesh and me portraying those comic roles.
When we started, we used to do a lot of research and watch videos online, where we came across various awesome comedy content creators.
Off late, Key and Peele are our favourite comedians, and we are highly inspired by them.
Then and Now
Duo: When it comes to direction and shoot, the quality of our content has definitely improved. Initially, we started with a phone camera, but over the years, we have collectively bought many gadgets.
We are focusing on creating rich comedy, where there is no overacting and the content is relatable to our audience, at large. We focus on direction and execution of our script. We believe in creativity, because creativity matters and that's what makes us unique from other content creators. We want to entertain people.
Over the years, we have received some of the best comments, where people have appreciated us. Some say our videos have made them deal with hard times like anxiety, depression and other mental health issues. It is overwhelming for us to receive such positive comments. It motivates us to make more such content.
Our greatest improvement is that, now we can improvise. Earlier, we had to put in a lot of effort and rack our brains to create content. Now, when an idea strikes, everything else comes in naturally.
Creative process
Nitesh: I am the one who initially comes up with the script. I observe kids, because kids are funny. The way they defend themselves, their greed, jealousy, I find them amusing! I sometimes imagine myself as a kid and recall memories of my childhood.
Many a times, when an idea strikes, I jot down pointers. We discuss for some days and when the script is complete, that's where Milan comes in. Milan has the best inputs, and he is the one who makes the script even funnier. As Milan's writing is strong, the descriptions are more elaborate. He even makes the subtitles humorous. He is the one who gives the titles for the videos too.
Once the script is ready, we go ahead with the shoot. Then again, the direction comes from me.
We put more time and effort in creating our YouTube videos.
Milan: Since Nitesh is mostly in Pakyong these days, any idea that comes up, we text each other or send voice notes. We discuss for some days and on Saturdays and Sundays, we execute it. So, it takes about a week to complete a content.
Team members
Duo: Currently, we are a team of four. Nitesh, Milan, Trishala Tamang (actor) and Kaushal Gurung (Kong Films). Kaushal is a Class 12 student, who is into cinematography. Trishala is an actor, who needs no introduction.
Gaon Ko Daju
Duo: 'Gaon Ko Daju' is a series on our YouTube and Instagram, which we started during our summer holidays. So far, there are 14 episodes. The idea was Nitesh's and you can say the series is based on real-life incidents. (laughs!
Nitesh: My childhood was of a typical 90's kid. Older boys used to bully me and sometimes bash me up. We used to go for tuitions, and those days tuitions weren't coaching classes. It was a typical tuition, where the tutor taught kids on the floor, while he sat on the bed. If you can imagine…
There was a famous tuition teacher in our village and the kids from the entire village attended his tuition classes. We had shifts, and I was in the evening shift. While waiting for the previous shift to get over, the older boys used to bully us and make us cry, sometimes. They used to make us fight for no reason too. There was no harm intended, the older boys just wanted to have fun and we were their minions.
Those were the days… which we don't see now. Kids these days are more inclined towards their phones, video games etc. Kids are smart now and they are good with their gadgets and mostly spend time indoors.
We wanted kids to have glimpse of our childhood, and how life was back in our days. The 90s kids have grown and all of us are busy with our family, work and life. We want to bring back memories through our contents and also show this generation, how childhood should look like.
Milan: Time is changing and so we wanted to document our childhood. Our grandparents and parents used to talk about how they walked miles just to reach their school. They often told stories about climbing mountains and crossing rivers to attend their classes. We also want to tell stories to kids about our childhood, and how we got bullied and beaten up (chuckles!). Again, we wanted to come up with real and relatable content.
Duo: The first 'Gaon Ko Daju' video we made was a hit, and our audience started demanding for more. So, we came up with a series. We started digging up our past experiences for our content.
We have collaborated with an Italian YouTuber in one of the series. We have also collaborated with many local artists too. Nitesh and Milan will definitely come up with more 'Gaon Ko Daju' content. We have more incidents to share (grins!)
The 'Daju' (brother) is a mystery and we want to keep his identity a secret.
'Those' Girls Getting Ready
Duo: Both of us have sisters at home and 'Those' Girls Getting Ready series was loosely inspired by them. We also had some toxic exes (laughs!).
Girls put in a lot of effort to stalk people and they create fake accounts to do so. Girls are very particular about what they wear and they don't like it when someone else wears the same outfit. Before attending functions, a girl will always ask her friends as to what they will be wearing. On the other hand, boys don't care about what he or his friends will wear. They only care about food and drinks.
It was amusing for us boys, because girls will have their wardrobe overflowing but will still have nothing to wear. It was a whole new world to experience and so we thought about giving it a try.
Our female audience have often questioned us about how we know about all these. Yes! We eavesdropped our sister's and female friend's conversations. Guilty!
Overall, we were highly appreciated for the first video and people started asking for more. So far, we have two episodes and we will definitely come up with more.
'Intern Bhattu'
Duo: In a village, there is always a person who is called a 'Bhattu'. Bhattu is basically someone who is misunderstood, maybe for the way they talk or dress up. Growing up, the same 'Gaon Ko Daju' was sometimes called a Bhattu. The daju or Bhattu was sometimes a nice person at heart, but misunderstood by the society. We wanted to introduce Bhattu in our content, as we don't see many Bhattus now.
Intern, because our characters in 'Intern Bhattu' are just getting into their Bhattu phase. They are trying hard, but haven't turned into a successful Bhattu yet!
Most viewed content
Duo: The most viewed content is Photosynthesis Siblings, which had 3.5 million views on Instagram.
Favourite among your content
Nitesh: 'If Sleep Was a Person' on YouTube is my favorite because I feel it is one of my most creative content. Milan has portrayed the character 'Sleep' here.
Milan: 'Tale of Every Student' episodes 1 and 2. It was fun to create it. The story is out of the box and it was shot during the lockdown.
Stand-up comedy
Duo: Nitesh started stand-up comedy in 2019, while Milan joined last year. We have performed in various places in Gangtok and the neighboring hills of Kalimpong, Darjeeling, Siliguri, etc.
Viewership
Duo: Our viewers/followers are mostly from Sikkim, Kalimpong, Kurseong, Darjeeling, Siliguri etc. 'Those Girls Getting Ready' was largely viewed in Nepal too, and followers are growing from that side.
Another video starring Trishala was more famous in Nepal and a lot of TikTok content is being created. That content went viral internationally.
What next?
Duo: Nitesh is into films, so we will be focusing on short films. We want to create comedy that is not just for Sikkim, but highly influential in Nepal too. That is a big challenge for us.
As of now, we will create more content and entertain our viewers.