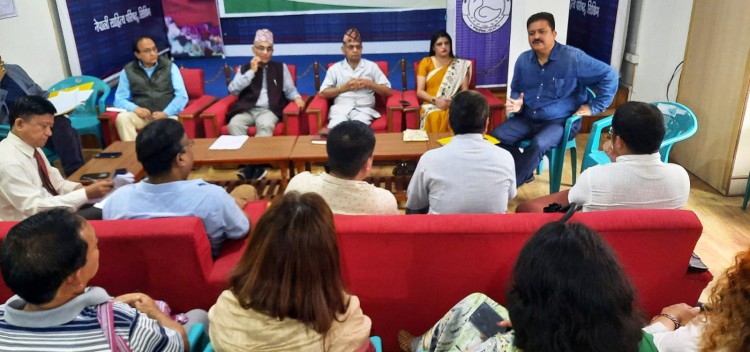 Thursday, Jul 07, 2022 08:00 [IST]
Last Update: Thursday, Jul 07, 2022 02:28 [IST]
Grand Shova Yatra in Gangtok on 208th Bhanu Jayanti
GANGTOK,: The Nepali Sahitya Parishad (NSP) Sikkim is honouring Dorje Rinchen Bhutia and O.T. Lepcha with 'Bhasa Gaurav' awards for their valuable service to Bhutia and Lepcha languages respectively. The honours, initiated from this year, are to be presented during the State-level 208th Bhanu Jayanti celebration at Gangtok on July 13, a press release informs.
Similarly, the Parishad is felicitating Padma Shri Khandu Wangchuk Bhutia on the occasion to be attended by Chief Minister P.S. Golay at Manan Kendra here.
As previously announced, former MP Dil Kumari Bhandari is receiving the NSP Sikkim's prestigious annual award 'Bhanu Purashkar 2021' while eminent litterateur K.N. Sharma is selected for the 'Bhanu Purashkar 2022'.
NSP Sikkim president Rudra Poudyal informs that the organising committee has invited more than 50 special guests from different parts of the world for the 208th Bhanu Jayanti function at Gangtok. These special dignitaries from outside Sikkim are attending the function to honour Dil Kumari Bhandari for her leadership role in the movement for Constitutional recognition to Nepali language.
The Bhanu Jayanti celebration committee held a review meeting on Tuesday at NSP Sikkim Bhawan here for the upcoming celebration. It was attended by Chief Minister's advisors T.N. Dhakal and C.P. Sharma, State Commission for Backward Classes chairperson Pavitra Bhandari, NSP Sikkim president Rudra Poudyal and representatives of 21 communities of Sikkim. They presented their suggestions for the grand celebrations of this year's Bhanu Jayanti.
The Shova Yatra in Gangtok is planned to be a major attraction and would be participated by the Chief Minister and guests from India and abroad. A Naumati women group has been invited from Nepal to give a special presentation during the Shova Yatra, the release mentions.