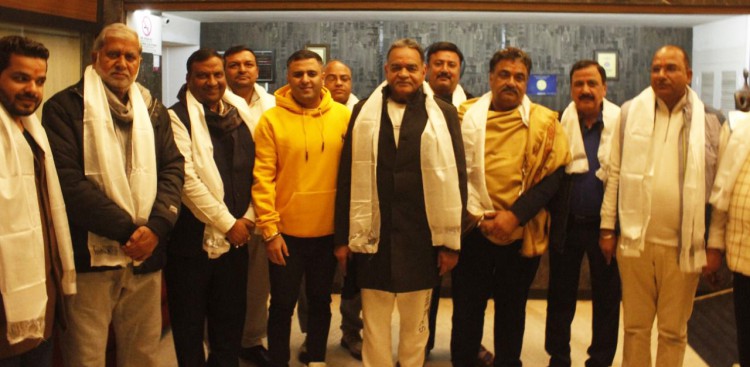 Friday, Dec 02, 2022 09:15 [IST]
Last Update: Friday, Dec 02, 2022 03:35 [IST]
Haryana MLA delegation commends hospitality, organic farming, cleanliness and traffic management of Sikkim
GANGTOK,: The 11-member MLA delegation from Haryana has given glowing compliments to the Sikkimese hospitality, traffic management, cleanliness of Gangtok and organic farming here.
Speaking to media here at a local hotel, Haryana Legislative Assembly Subject Committee chairperson Deepak Mangla shared that despite being a small State with low population, the entire system in Sikkim is highly appreciable.
"We saw in Sikkim that it is possible to have a good law and order along with development in small States. There is widespread employment. The traffic and Sikkim Police's management and cleanliness in the State are exemplary," said the chairperson.
The MLA delegation from Haryana is on a Sikkim tour from November 28 during which they visited various places including Nathu La and Sikkim Legislative Assembly. They left for Darjeeling today for a two-day visit.
Sharing his experience, MLA Vinod Bhayana said the delegation was mesmerized with the natural beauty and hospitality of Sikkim.
Bhayana also appreciated hotelier Vikki Khurana from Haryana who is engaged in tourism sector here. This is a commendable aspect that youths from Haryana are coming to Sikkim and working in the tourism sector here, he said.
The Haryana MLAs informed that their Sikkim visit was to understand the functioning of Sikkim Legislative Assembly and the facilities provided to the MLAs here. The MLAs from the two States had a meeting to share each other's experiences, it was informed.
The visiting MLAs also expressed that plans would be made to visit Sikkim again to learn about organic farming here.
Earlier, hotelier Vikki Khurana welcomed the Haryana delegation at the hotel run by him here at Convoy Ground.