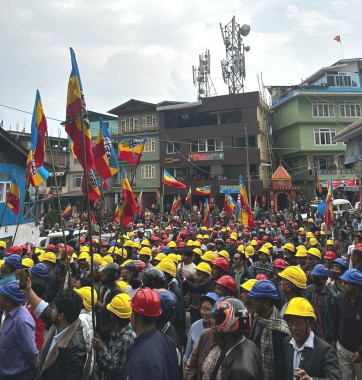 Monday, Mar 20, 2023 07:15 [IST]
Last Update: Monday, Mar 20, 2023 01:38 [IST]
Helmet rally to show 'Sikkim BachaoAbhiyan' will not stop despite stone pelting on SDF: Chamling
GANGTOK, : Former Chief Minister Pawan Chamling has said the SDF was compelled to take a helmet rally as the opposition had no other response to the serialized political violence targeted towards its members. The helmet rally at Yangang on March 17 was also to send a strong message that our 'Sikkim BachaoAbhiyan' will not stop, said Chamling in his weekly Sunday press statement.
Chamling and the SDF workers had turned up at Yangang bazaar wearing helmets during its public outreach campaign under 'Save Sikkim' mission.
In his media statement, Chamling said the SDF had no other response than wearing helmets against the "SKM party's open political terrorism and organized crimes", alleged open threats issued by Chief Minister PS Golay and a compromised police administration.
"Please note that in the last four years, at least 68 of our party workers have been attacked physically. Political persecution and victimization are going on all over the State. Many vehicles and houses of the SDF cadres have been damaged. Our party offices in Gangtok, Namchi and Jorethang have been severely attacked. We have been ambushed and attacked with stones and weapons by the SKM sponsored goons more times than we can count."
"When we plan our next political or social visits, the first thing that comes to our mind is the possible stone pelting and physical attacks that we have to face at the hands of these goons. The visuals of our dear colleagues soaked in their own blood after being attacked by the SKM goons make us cringe. When we go to the police, they coldly refuse to accept our FIR. We even submitted CCTV footage and videos taken on mobile phones which clearly show the attackers in the act. But the Sikkim police just cannot do any more than give ridiculous press conferences and interviews to the media. Not a single culprit has been arrested so far. The job of the police is to arrest culprits and give justice to victims. What is worse, the victims have often been arrested simply because they belong to the SDF party," said Chamling.
Maintaining that the SDF believes in non-violence, Chamling said time has come for the SDF to take defensive measures including wearing helmets to protect its members from stone pelting and physical attacks.
"Our helmet rally also conveys a strong message that our Sikkim BachaoAbhiyan will not stop no matter how many stones they pelt against us. We will keep marching ahead. We will keep meeting the people. We will keep fighting for Sikkim. For us, the lives of the Sikkim people are more precious than our own lives. Pawan Chamling is willing to die a thousand deaths to save the life of one Sikkimese."
"Finally, to civil society, I appeal to you to dismiss the SKM violence as an SDF-SKM conflict. There is no conflict. These are one-sided attacks on the SDF as every person can clearly see. Our society must become a responsible society that condemns such acts. No one can afford to remain a mute spectator when such damage and harm are commuted against Sikkim," said the SDF president.
Chamling maintained that cultivating violence and stone-age idea of threatening and terrorizing the dissenting people will finish Sikkim. "History is replete with examples of parents' violent acts visiting upon their descendants for generations. For the future generations' sake, stop this violence right now," he said.
The former Chief Minister also appealed such misguided youth to stop violence and to ponder on their actions targeted against their own people of Sikkim and local society.
BOX
"Our helmet rally also conveys a strong message that our Sikkim BachaoAbhiyan will not stop no matter how many stones they pelt against us. We will keep marching ahead. We will keep meeting the people. We will keep fighting for Sikkim. For us, the lives of the Sikkim people are more precious than our own lives," – Pawan Chamling