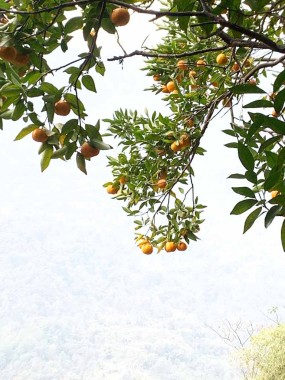 Friday, Sep 01, 2023 07:30 [IST]
Last Update: Friday, Sep 01, 2023 01:51 [IST]
Horticulture Dept working on revival of Sikkim mandarin oranges
KUNAL RAI
GANGTOK,: The State Horticulture department is working on revival of indigenous Sikkim mandarin oranges by developing saplings that would be distributed to the progressive farmers.
Sikkim Mandarin oranges are among the important cash crops of Sikkim with about 15,000 hectares of land under its cultivation. However, production has sharply declined over the years due to diseases, fruit fly and other variable conditions.
Speaking with SIKKIM EXPRESS, Horticulture director BL Dahal informed that the department has received funds under NEC for revival of the indigenous Sikkim Mandarin oranges.
"The funds are being used to develop quality, disease-free Mandarin saplings which are being carried out at Yangang, and 6th Mile in Tadong. The department aims to develop around 10,000 saplings and distribute it to the progressive farmers," said Dahal.
It was informed that the department plans to identify the progressive farmers and train them on scientific management of the orange orchards with a view to preserve and propagate the indigenous mandarin oranges across Sikkim.
Dahal informed that the Horticulture department would also carry out soil testing of the lands of the identified farmers before sowing the saplings.
Regarding the production decline of Sikkim Mandarin oranges, the Horticulture director shared that there are numerous factors including abiotic and biotic, impact of climate change and acidic condition that damage the orange trees and its production.
Pests like fruit fly are a major reason that has led to the downfall in orange production and to address this, modern, hygienic and scientific management of orchards is a must, said the Horticulture director.
Dahal added that the Horticulture department is working towards GI-tagging of Sikkim Mandarin oranges so that the farmers get a premium price. The State government has also facilitated a cash incentive of Rs. 20 per kg in order to encourage orange cultivation in Sikkim, he said.