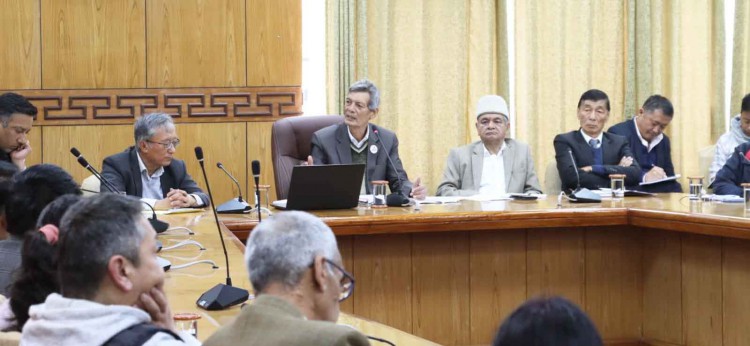 Tuesday, Mar 07, 2023 07:30 [IST]
Last Update: Tuesday, Mar 07, 2023 02:01 [IST]
ILP proposal for Sikkim receives unanimous support in first public hearing
GANGTOK,: Representatives of different organizations extended a unanimous support to Inner Line Permit (ILP) proposal in Sikkim during the first public hearing held by the State government-constituted committee at Chintan Bhawan here on Monday.
Committee chairman Shanta Pradhan along with other members conducted the public hearing which had the participation of community organizations, tourism stakeholders, representatives from erstwhile Sikkim Darbar employees, SIBLAC, Sikkim Mulbasi Sangathan, Sikkim Lepcha Association, Sikkim Pratibha Pratisthan, Sikkim Hotels and Restaurants Association, individuals, ruling SKM and opposition SDF.
Addressing the media after the public hearing, committee chairman Shanta Pradhan said: "ILP in Sikkim will not affect any sector. We will try to recommend the government a policy which will not hamper anyone. ILP will not restrict the movement of the people; it will regulate the movement, entry and exit of the people. It will not restrict in anyway".
Pradhan said that out of all the works carried out by the committee so far, today's public hearing has been "very satisfying". "Till today our work was only theoretical, studying different issues. The public consultation has been very satisfying," he said.
As the next step, the ILP panel is visiting the Northeast States which have ILP system on March 10-11 for a study trip.
"The trip to North Eastern States for surveying ILP implementation are awaiting the formation of government and swearing in ceremonies in Nagaland, Meghalaya and other ILP States. Only after governments there settle down that we will be conducting the tour. Around 10-11 March we should be starting the tour. If there are no time constraints, the report and recommendations that we will submit to the government, a gist of the same will be published in a forum. Whether it will be before or later, it depends. We have been given a deadline till April 4 to submit the committee's report," said Pradhan.
The Apex Body of Indian Origin People of Sikkim had voiced their concerns on the ILP proposal. However, the conglomerate of 10 associations didn't mark their presence in ILP public hearing.
On this, Pradhan stated, "They may have missed the hearing dates or they may mark their presence in the next hearing. It is not opposed by Apex Body of Indian Orgin People of Sikkim…they have merely raised the concern on the impact of ILP. It could be that they have not understood or not carried out a study. The concerns are minor issues, the major issue at stake is national security. Unique culture, tradition, demographics are at stake in Sikkim. The peaceful nature of Sikkim is at stake, without it what will remain of Sikkim? In such a big issue where people are emotional and hurt, there was not a stone hurled. There is no use of guns or looting, the peaceful Sikkim should stay. The basic object of the committee should be to hand over Sikkim to the next generation as it is today."
On ILP being differently categorised for people entering Sikkim, the ILP committee chairman stated, "There are different categories for ILP, where it regulates even IAS officers and their family. But it is not restrictions, it is only regulations. ILP exists with RAP and PAP right now, despite that not happening. There are opinions that ILP will smoothen out the process, the overlapping issues will not happen after ILP. ILP was never relaxed but only the process was being regulated in 1990. The ILP then used to be issued by Darjeeling District Magistrate even for Sikkim. The government realising Sikkim being a full-fledged State, hence how can Darjeeling regulate? In 1990, such concerns were regulated and smoothened for convenience. It was not paid attention prior to 1990, thereafter tourism flourished. ILP was merely regulated and no changes made", said Pradhan.
ILP committee advisor MP Subba and TN Dhakal, representative of the committee and SKM party, asserted on "no copy-paste" of ILP from other NE States.
"We will be adopting the 'best practices' taking our own State as the basis. It can be a mixture of all the NE States or even our own innovation", stated Dhakal.
Dhakal also asserted on Sikkim Subject Regulations 1961 to be the basis for cut-off of people identified as Sikkimese. He said, "Questions are raised today over the cut-off year to be July 3, 1946 which is 15 years prior to Sikkim Subject Regulations 1961. ILP is not concerning on citizenship."
Passang Sherpa, an ILP committee member, asserted on implementing ILP under Article 371F and not under North East Frontier Regulations 1873 prevalent in other North Eastern States. He stated, "There are laws inside Article 371F for ILP implementation, we are discussing with legal experts concerning the options. The committee has held discussions with Law secretary. We have also asked for their views."
Recommendations from public came for tracing and tracking of individuals as part of ILP regulations to be from top software companies of the country such as TCS, Wipro and Infosys. But thát becomes prerogative of the State government on whom to select. Tracing and tracking is important when they are entering and exiting.