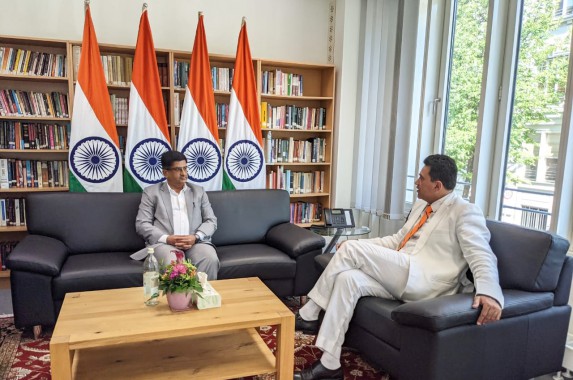 Monday, Aug 01, 2022 08:45 [IST]
Last Update: Monday, Aug 01, 2022 03:10 [IST]
Indian consulate assist for marketing of Sikkim's organic produces in Germany
GANGTOK,: With an increasing number of German population demanding organic produce, the Indian consulate in Munich will help Sikkim's organic produces get the market in Germany.
Mohit Yadav, the Consul General of India in Munich, during a meeting with Agriculture minister Lok Nath Sharma at Munich on July 28 assured the latter that the consulate will assist in identifying potential importers in Germany, informs an IPR release.
After the Covid-19 pandemic, the German population has started consuming more of alternate medicines and organic foods and commodities like spices have huge market opportunities in Germany, he said. He suggested that Sikkim should participate in the next edition of the Biofach, an organic food trade fair held annually at Nuremberg, Germany, with all the commodities available.
It was suggested that all certification compliances be addressed in the meantime to enable participation in the next edition of Biofach.
The Consul General also mentioned that the Germans also show keen interest in adventure sports like skiing and other activities like trekking and cycling and therefore has huge potential that needs to be exploited. The Consulate can help identify companies that can develop these activities in the State, said Mohit. The other areas of cooperation could be in education, skill development and investment. Education in Germany is free and there is huge opportunity in this sector which needs to be exploited, the Consul General said adding that a virtual meeting between the Government of Sikkim and the concerned stakeholders from the German side can be arranged.
Lok Nath Sharma expressed that he would discuss with the concerned departments to take matters forward and assured that the State government will take necessary steps to begin trade in organic commodities from Sikkim.