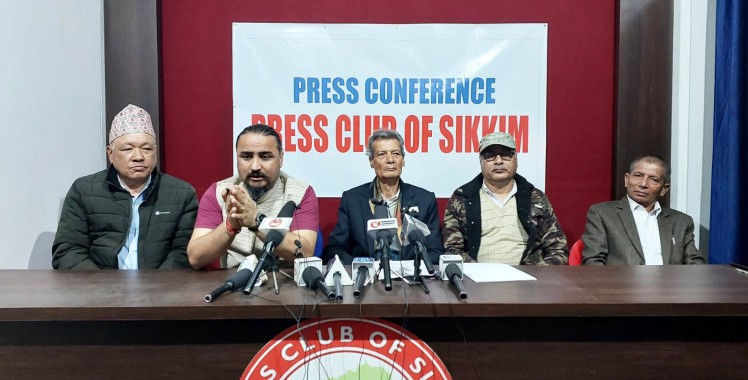 Friday, Feb 03, 2023 07:30 [IST]
Last Update: Friday, Feb 03, 2023 01:59 [IST]
JAC forms district committees to intensify movement
KUNAL RAI
GANGTOK,: The Joint Action Committee (JAC) held a State-level meeting today at Singtam which was attended by representatives of various political parties, associations and individuals.
District committees and a youth wing of the JAC were also formed to take forward the movement against the objectionable references made against Sikkimese Nepali community in a recent Supreme Court judgement.
Responsibilities have been handed over to the district committees, informed JAC general secretary Keshav Sapkota at a press meet in Gangtok.
"It is high time that every Sikkimese participate in this final battle for protecting our identity. It is not only about the 'immigrant' tag on the Sikkimese Nepalis, it is also about striking down of term 'Sikkimese' itself. We have to stand united and fight for our rights," said Sapkota.
Sapkota said that the JAC does not support violence. But if the government does not act on the larger interest of the people and anything untoward happens, the JAC should not be held responsible, he asserted.
"We had submitted a memorandum to the State government after our rally on January 31 but till date, no response has come from the government. We have given seven days' time to the government and in case they fail, the future course of JAC will be different which we will inform in due course of time," said the JAC general secretary.
JAC president Shanta Pradhan reiterated that the Sikkimese people have been hurt and betrayed following the Supreme Court verdict of January 13. Following such betrayal time and again, we are forced this time to take action for protecting our identity, he said.
Pradhan quoted former Chief Minister late Nar Bahadur Bhandari's famous statement of "we were merged but do not want to be submerged". Today the verdict from the court has shown that Sikkim and Sikkimese are being submerged, he said appealing the Union government to safeguard the special status of Sikkimese as given under Article 371F.
We have made three demands to the government – file a review petition at the earliest after preparing a strong ground; conduct a special Assembly session to pass a resolution seeking restoration of 'Sikkimese' word and expunging of 'foreigner' tag, and implementation of Inner Line Permit in Sikkim, said Pradhan.