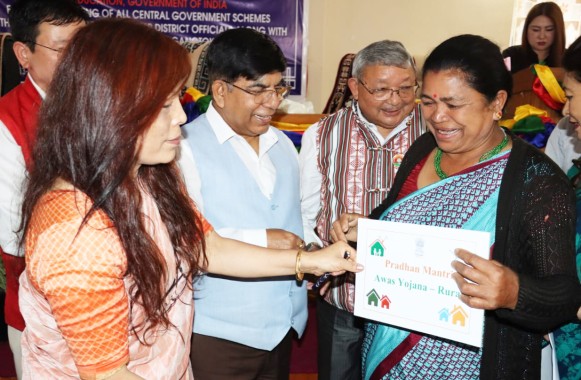 Saturday, May 13, 2023 05:30 [IST]
Last Update: Saturday, May 13, 2023 23:59 [IST]
MoS reviews Central government schemes in Sikkim
GANGTOK, (IPR): Union Minister of State for Education Dr. Subhas Sarkar convened a review meeting of all Central government schemes today in the conference hall of Zilla Panchayat Bhawan, Gangtok.
The MoS is in Sikkim to take stock of the progress of projects implemented under Centrally Sponsored Schemes and flagship programmes of Government of India.
The meeting was attended by Education minister Kunga Nima Lepcha, Gangtok MLA Y.T. Lepcha, Education secretary Sumita Pradhan, Gangtok district collector Tushar Nikhare, assistant collector, ADCs and various officials from the district, heads of various components under Education department, line department officials, principals of various schools, teachers, students and beneficiaries from the district.
During the programme, participants representing various departments and organisations, through power point presentations, highlighted the status of various projects in the State. Detailed status report of the following projects and initiatives were presented by concerned departments and organisations: Samagra Shikha and Pradhan Mantri Poshan Shakti Nirman (PM-POSHAN) implemented by Education department; Janani Suraksha Yojana (JSY), Pradhan Mantri Jan Arogya Yojana (PM-JAY) and Ayushman Bharat Health Account (ABHA) implemented by Health and Family Welfare department; Jal Jeevan Mission (JJM), Atal Mission for Rejuvenation and Urban Transformation (AMRUT 1.0 and 2.0) and National River Conservation and Development (NRCD) implemented by Public Health Engineering department; current and upcoming projects of National Highways and Infrastructure Development Corporation Limited (NHIDCL) in Sikkim; Pradhan Mantri Gramin Sadak Yojana (PMGSY) implemented by Rural Development department; projects in Sikkim implemented by Power Grid Corporation of India Limited; National Food Security Act 2013 implemented by Food and Civil Supplies department; and Integrated Child Development Services (ICDS) programme implemented by Women and Child Development department.
An interactive session was also held with the beneficiaries of various Central government schemes. In the one-on-one interaction with Dr. Sarkar, the beneficiaries shared their experiences and thoughts, and expressed gratitude to Prime Minister Narendra Modi for introducing the schemes.
District collector Tushar Nikhare gave a brief update of ICDS programmes in the district and requested for enhancement of funding under the scheme. Similarly, the DC placed requests for additional funding in connection to NHIDCL and Power Grid projects in the district. The Union Minister of State assured to lend further support and asked the State government to submit proposals for the same.
Dr. Sarkar expressed his happiness with the visit and subsequent interaction with the beneficiaries and participants. He acknowledged the problems and grievances placed and urged the line department officers to remain connected to the people at different levels and work towards solving their problems.
Minister Kunga Nima Lepcha in his address extended a warm welcome and thanked the MoS for visiting Sikkim to personally interact with the beneficiaries.