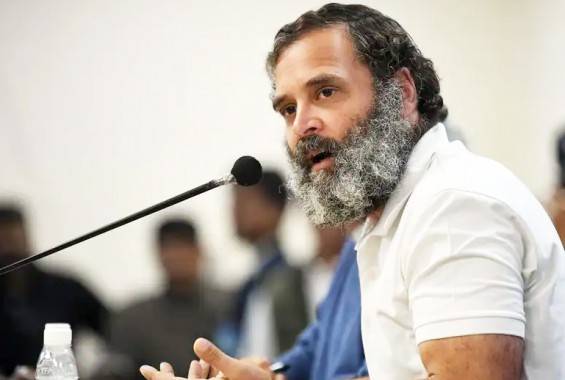 Tuesday, Feb 21, 2023 08:15 [IST]
Last Update: Tuesday, Feb 21, 2023 02:39 [IST]
MP from Wayanad, Rahul Gandhi becomes AICC member from UP
NEW DELHI, (IANS): Former Congress President Rahul Gandhi has been elected as an AICC member from Uttar Pradesh despite being an MP from Wayanad in Kerala.
Only AICC's elected members can cast vote in the Congress working committee elections.
Congress sources said that the people of Amethi in Uttar Pradesh, mainly the Congress supporters, want Rahul Gandhi to again contest from Amethi, which used to be a Congress stronghold before Smriti Irani defeated the former Congress chief from there in the 2019 general elections.
Deepak Singh, a former MLC from Amethi considered close to the Gandhi family, said, "People of Amethi are waiting to make Rahul Gandhi the Prime Minister of the country."
Many party leaders said that while there is no indication from Rahul Gandhi yet, Amethi will remain a Gandhi bastion as the constituency shares decades long relationship with the family.
In 2019, Rahul Gandhi had lost from Amethi but won from Wayanad.
With the Bharat Jodo Yatra, the Congress feels that Rahul Gandhi has hit the right chords and will rejuvenate the party in the upcoming states elections and the general elections in 2024.
Among the major states going to the polls this year, Madhya Pradesh and Karnataka are ruled by the BJP, while the Congress has governments in Rajasthan and Chhattisgarh.
The Congress is trying to build a national alliance and in Uttar Pradesh too it might go with the smaller parties if the Samajwadi Party and the Bahujan Samaj Party do not come with the Congress.
"Clear deliberations will begin soon and the direction will come from the plenary session," said Congress General Secretary K.C. Venugopal.
"The Congress has already taken an initiative. During the Bharat Jodo Yatra, the party invited maximum like-minded political parties to join it to fight the BJP," Venugopal said.