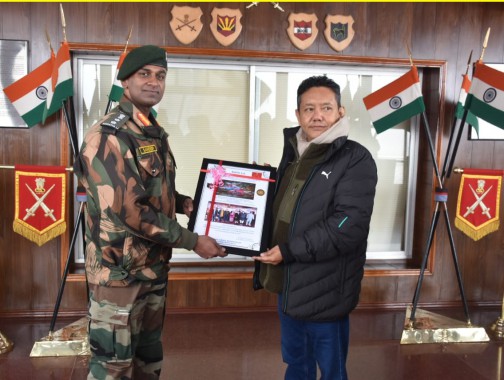 Sunday, Feb 26, 2023 08:45 [IST]
Last Update: Sunday, Feb 26, 2023 03:14 [IST]
Nathu La study tour for CPA delegates
GANGTOK, (IPR): The third day of the 19th Annual Conference of the Commonwealth Parliamentary Association (CPA) India Region Zone III witnessed a post-conference study tour to Nathu La and Tsongmu Lake.
Sikkim Legislative Assembly deputy Speaker Sangay Lepcha accompanied the visiting dignitaries during the study tour.
The participants in the tour included the chairman (CPA), Speaker of Arunachal Pradesh Legislative Assembly, Pasang Dorjee Sona, Speaker, Tripura Legislative Assembly, Ratan Chakraborty, Speaker, Uttarakhand Legislative Assembly, Ritu Khanduri Bhushan, MLAs from Assam, officials from Rajya Sabha, officials from Sikkim Legislative Assembly, and other delegates.
Commanding Officer of the Black Cat Division, Indian Army, Col. Sandeep Sridharan welcomed the visiting dignitaries and briefed them about Nathu La's history and its importance as a trade route between India and China. He also informed that Nathu La Pass is the gateway for Kailash Mansarovar Yatra.
Similarly, Foreign Mail Exchange procedure in the border area was highlighted during the briefing through a short presentation.
After the tour around the border area, visiting dignitaries were presented with tokens of appreciation and mementos by the Commanding Officer.
The delegates also visited Baba Harbhajan Singh Temple and offered their prayers.