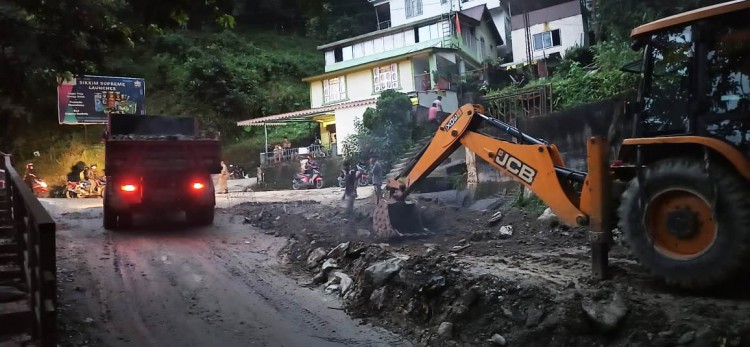 Thursday, Sep 29, 2022 08:45 [IST]
Last Update: Thursday, Sep 29, 2022 03:08 [IST]
Restore two-way traffic, resume repair work after Dasain: Chamling
GANGTOK,: Former Chief Minister Pawan Chamling has urged the authorities concerned to restore two-way traffic along NH 10 above Mayfair Hotel near Ranipool expeditiously without further inconveniencing the people.
"I urge the concerned authorities to restore two-way traffic as soon as possible without further inconveniencing the people. The work should be resumed only after the Dasain festival and should stop again at least one week before Diwali. I welcome all the much-needed repair work but factoring in public convenience and public sentiments is of great import," posted Chamling in his social media page.
Chamling, also the SDF president, recorded people's exasperation over the daily serpentine jams caused due to the road repair work near Mayfair Hotel along the highway. The road repair work that has completely bottlenecked the flow of traffic into and out of Gangtok right before a major festival could have been postponed till after Dasain, he said.
"The random prioritization of road repair works shows the complete lack of pro-people consideration on the part of the government. People are preparing for their festival after three years of a crippling Covid pandemic. They are rushing in and out of Gangtok for official, commercial, familial and personal tasks. People brave the worst roads in their villages and towns to come to Gangtok only to be stranded in Ranipool for hours at a time. Passengers have been spending one and a half hours to two hours to cover the distance between Ranipool and Gangtok. Many are postponing or cancelling their trips," said Chamling.
The former Chief Minister gave his reasons for the chaotic traffic situation in the State capital. "The Sikkim government is deliberately blocking the flow of traffic to discourage people from coming to Gangtok. I hear that the CM, ministers and MLAs are avoiding meeting people," he said.
"The government is too myopic and utterly fails to see how foolish an idea it was to bottleneck Gangtok traffic right before a major festival. There is a complete lack of coordination between the road repair agency and the State administration," Chamling added.
Chamling, in his social media post, also urged the State government to take seriously the terrible road conditions all over the State and repair them on a war footing.