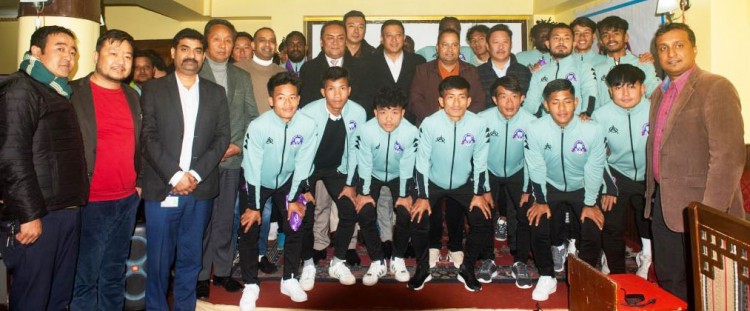 Saturday, Feb 04, 2023 08:45 [IST]
Last Update: Saturday, Feb 04, 2023 03:03 [IST]
Roaring Leopard FC unveils home and away kits
ISABELLA GURUNG
GANGTOK,: The home and away match jerseys of Roaring Leopard FC were unveiled in the presence of Namcheybong MLA Em Prasad Sharma, Pakyong DC Tashi Chopel, Chief Minister's PRO and Roaring Leopard FC chief coordinator R.N. Pradhan, NHPC chairman Prashant Pradhan, Forest official Uday Gurung, Roaring Leopard FC owner Sabin Subba, Pakyong SP, SIKKIM EXPRESS editor Amit Patro, board members, players, sponsors including Lupin Ltd and dignitaries at a local hotel in Gangtok on Thursday evening.
On the occasion, the contract and agreement were also signed between Roaring Leopard FC and players.
Roaring Leopard FC from Pakyong district is one of the eight teams participating in the first edition of Sikkim Premier League 2023 which kicked off at Paljor Stadium here on January 30.
They will play their first match at Paljor Stadium on February 8.
MLA Sharma congratulated the players and expressed excitement to watch the Roaring Leopard FC's first match. "I am waiting for Roaring Leopard FC's first match. Let's meet at Paljor Stadium on February 8. Give your best for Pakyong," said Sharma.
The MLA thanked the organisers and sponsors.
Pakyong DC Tashi Chopel welcomed the players to the club. He stated that the team has been practicing for SPL since January 12, and there has been a lot of progress since then. "I am happy that everything is going according to plan and I am sure we will win the league. Roaring Leopard FC consists of a young team of board members and players, who are working together, as a team," said the DC.
Chopel thanked MLA Sharma for his active support right from the beginning.
The football club owned by Sabin Subba has a total of 32 members including 25 players.
The board members include DC Tashi Chopel, Sonam Palden Bhutia, Sabin Subba, Pincho Bhutia and Prabhat Rai.
The team includes three foreign, four out station and three drafted players. The drafted players are Kunal Tamang, Anurag Chettri and Sanjay Dundal. Among the remaining players, two are under-19 players.
The team has Alpan Lepcha as head coach, Anil Tamang as assistant coach, Anil Limboo as physio, Pawan Chettri as goalkeeper coach and kit manager, Prabhat Rai as manager, and Pincho Bhutia and Pema Wangdo Bhutia as technical directors.
It was informed that a meeting of board members with Football Development Pvt. Ltd. was held on November 30, 2022. With the agenda to request clubs to send their players for trials, a meeting with football clubs of Pakyong district was held on November 17, 2022. The selection trial was held at Paljor Stadium on December 6-7, 2022 which had a turnout of 72 players, out of which 15 were shortlisted for the final trial.
SPL is a franchise-based football league organized by Football Development Private Limited (FDPL) and sponsored by Government of Sikkim and Sikkim Urja Limited.
Eight teams from six districts, viz. Sikkim Aakraman Sporting Club (Gangtok), Dragons FC (Gangtok), Siniolchu Football Club (Namchi) Red Panda FC (Namchi), Thunderbolt North United FC (Mangan), Brother's FC (Gyalshing), Singling FC (Soreng) and Roaring Leopard FC (Pakyong) are participating in the league.
The matches will be held at Paljor Stadium, Gangtok and Bhaichung Stadium, Namchi.
SIKKIM EXPRESS is the official media partner of Roaring Leopard FC in the first edition of Sikkim Premier League.