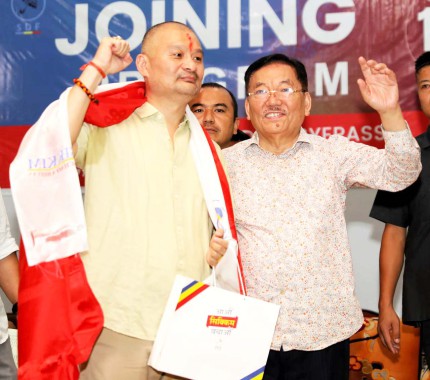 Wednesday, Sep 20, 2023 07:30 [IST]
Last Update: Wednesday, Sep 20, 2023 01:54 [IST]
SDF homecoming for Ashis Rai with 'Save Sikkim' mission
GANGTOK,: Politician Ashis Rai from Arithang here on Tuesday formally returned to his SDF party, announcing his total participation to the 'Sikkim Bachao Abhiyan' of the Pawan Chamling-led opposition front.
Ashis was among the prominent faces of politicians, social workers, retired government employees and others who were inducted into the SDF by Chamling during a major joining programme held at SDF Bhawan here.
While welcoming all into the SDF, party president Pawan Chamling publicly admitted that the SDF paid a huge cost after denying Ashis, then a strong SDF youth leader, the party ticket from Arithang constituency in 2019 Assembly election.
"In 2019 election, there was a mistake from our side…we could not give Ashis the party ticket. This caused some misunderstanding among us due to which our party was ousted from the government. Such small-small things led to the SDF's defeat in 2019 and we accept our mistakes made then. We will not make such mistakes again in the coming 2024 election", said Chamling in his address while referring to the Arithang politician's SDF wapsi.
Today Ashis has returned to his family and his return has brought us happiness to our party, said the SDF president.
In his short address, Ashis recorded that he returned to his SDF family to join the 'Sikkim Bachao Abhiyan' led by Chamling. I have returned to the SDF due to our leader's ideology of 'Pavitra Kranti' and for the 'Sikkim Bachao Abhiyan', he said. He expressed hopes that those joining the SDF today would take the 'Save Sikkim' mission to every house in the State.
Hitting out at his critics for returning to the SDF in context of the 2019 election snub, Ashis asserted that he is ready to accept all criticism but would not compromise with the safety and future of Sikkim.
Ashis maintained that he was living by the SDF party's principles during these four and half years after the 2019 election. Though the government changed in 2019, there has been no 'Parivartan' in the conditions of the people, we must ensure that people of Sikkim are not fooled again, he said.
Ashis was accompanied by several of his supporters during the SDF joining event.