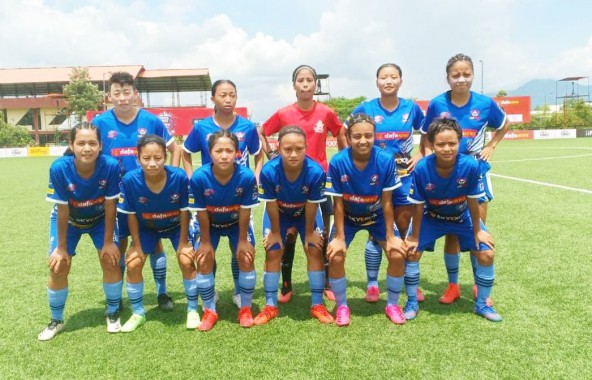 Monday, Jul 18, 2022 08:30 [IST]
Last Update: Monday, Jul 18, 2022 02:50 [IST]
Sikkim in semis of NE Women's Football League
GANGTOK, : Sikkim has qualified for the semi-final of North East Women's Football League 2022 being held at Imphal. Sikkim played its penultimate league match against Assam which ended in a 1-1 draw on Saturday.
A Sikkim Football Association (SFA) release informs that Sikkim had taken the lead in 35th minute with the goal coming from Noacha and assist from Laxmi Tamang. However, Assam found the equalizer in the second half with a penalty.
Having secured two draws and four wins, Sikkim stands second in points tally and has already qualified for the knockout round. They play their final league match against Arunachal Pradesh on July 19.
The semi-final matches are scheduled on July 22 followed by the final on July 23.
Team Sikkim is escorted by chief coach Puspha Gurung, coach Alpan Lepcha and physio Rinzi Lamu Bhutia.
The SFA has congratulated and extended best wishes to the Sikkim women's team for the knockout round.