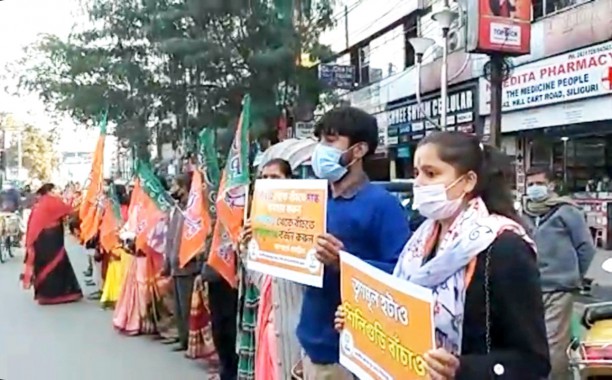 Saturday, Jan 22, 2022 08:00 [IST]
Last Update: Saturday, Jan 22, 2022 02:33 [IST]
Siliguri kidnapping: Two Trinamool grassroots leaders among three arrested
PRASHANT ACHARYA
SILIGURI, January 21: New Jalpaiguri police arrested three persons including two Trinamool workers in connection with a kidnapping of a 19-year-old youth who was missing from Siliguri since January 13.
Tapan Das and Ratan Pal, the local grassroots leaders of TMC, and Raja Singh, a local businessman, were arrested for allegedly kidnapping the teenager and demanding a ransom of Rs. 40 lakh.
The Bharat Nagar resident was allegedly abducted from an internet cafe on January 13. The family members had lodged a missing report at police station the following day.
The kidnappers had locked the missing boy in a flat in Deshbandhu Para.
Protul Chakraborty, the Trinamool candidate for ward number 24, admitted that the arrested are TMC workers. The two were spotted recently during election campaign for Siliguri Municipality Corporation and were in multiple pictures with Chakraborty.
The oppositions slammed TMC for keeping criminals in the party.
CPIM veteran Ashok Bhattacharya called a press conference and asked Siliguri residents not to caste a single vote in favour of TMC.
BJP supporters gathered at Hill Cart Road and staged protest against the alleged involvement of Trinamool leaders in kidnapping case.
Meanwhile TMC's Darjeeling district president Papiya Ghosh, who visited the house of victims on Friday, said the arrested persons were not holding any post in the party and they were just supporters and supporting party for their own benefits.